A 'Hangover Sucks', especially when you're at the Masters: Are these lollies the cure?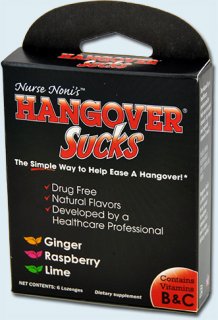 AUGUSTA, Ga. – With the right mix of alcohol and sleep deprivation, my hangovers come strong and linger around a little too long.
So when I was asked if I wanted to try out a new product that will cure hangovers called, creatively, Hangover Sucks, of course I signed right up.
Upon receiving two boxes in the mail ($4.50 per box), I kept them in my backpack, waiting for the day that I did in fact over imbibe and need a last ditch effort. Developed by a "Health Care Professional," these lollies claim:
Our three delicious flavors, Ginger, Raspberry and Lime, each contain an essential blend of specific vitamins, including Vitamin C, Thiamin, Ribflavin, Niacin, Folate, Vitamin B6, Vitamin B12, Biotin, and Pantothenic Acid complex (a form of calcium). These vitamins work fast to ease the symptoms of a hangover including headache, upset stomach, dry mouth and mild dehydration.
Soon enough, the day finally came where I would wake up with that all too familiar feeling. I'd overdone it the night before on the Tuesday before the Wednesday practice round at the Masters. We had decided to head out and check out the "scene" on Washington Road.
After hitting all the spots in town, including the country bar with the mechanical bull, the Hooters and or our final stop at Somewhere in Augusta, I woke up at 7 a.m. the next day hurting bad. But alas! I finally got to try out a couple of these hangover-curing suckers.
I sucked on a couple (instructions on the box say "do not chew!") as we made our way to Augusta National. Not much happened immediately. The three flavors taste very different (not crazy about the Ginger but the Raspberry ain't bad). They certainly taste more medicinal than kiddie food.
I took a few sips of coffee in the press room that only made me feel worse. We headed outside and began to walk the first hole at Augusta to watch practice rounds. It was my first time on these hallowed fairways, and with the dew still on the grass and sun peaking through the pines, I wondered if I was going to blow chunks all over the place. Running and cell phones are an ejectable offense at the Masters. Does hurling get you booted? I didn't want to learn.
Eventually, around the third hole, we stopped into one of the on course refreshment huts for breakfast. I got nothing more than a Coke and some peanut M&Ms. Not much longer after a few sips of soda, I started perking up a little. Was it the lollipops finally emerging victorious in whatever kind of acidic orgy was going on in my stomach? Or was a little soda and some fresh air all it took?
That's the thing about hangover remedies. You never really know what works in the long run, because by the time it's gone, we forget we ever had one in the first place. That's the magic ingredient in alcohol, and that's what winds up biting us in the happy hour butt a week later.
I still have a few lollies left over, and I'm sure I'll get the chance to try them again soon enough. If you have a golf trip coming up or just need some stocking stuffers for a bachelorette party coming up, you can order a couple boxes at HangoverSucks.com.
No feedback yet
Comment feed for this post
Leave a comment