Hidden River Golf & Casting Club joins the Boyne Resorts umbrella in northern Michigan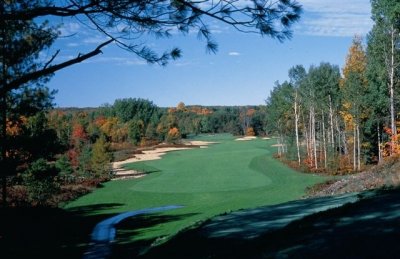 Boyne Resorts have added a ninth golf course to their northern Michigan stable: Hidden River Golf & Casting Club in Brutus.
Boyne, the big gorilla of Michigan golf resorts, features four-course Boyne Highlands Resort, as well as 27-hole Bay Harbor Golf Club, nearby Crooked Tree and two-course Boyne Mountain Resort. Hidden River is an 18-hole club located about 11 miles east of the Boyne Highlands Resort in Harbor Springs.
From the release:
Bernie Friedrich, Boyne Resorts' vice president of golf, marketing and retail operations, says Hidden River has been on his radar for the course's "quality, playability and natural setting along the Maple River." He adds, "Hidden River complements the BOYNE golf experience by providing our guests with another premiere course to play plus creates greater tee time availability and further increases the value of our golf packages and memberships."
So what will golfers get at Hidden River? Click here for my Hidden River course review from last summer.
When I saw the press release that Boyne had added a ninth course, I thought it might be True North Golf Club (which I just wrote about over at GolfChannel.com's Punch Shots). True North is a new course just a couple miles from Boyne Highlands, has already been through an ownership change and has struggled to fill its membership in its first few years. I didn't go to no fancy business school, but it would make absolute sense to me for the two properties to partner up.
For now, Hidden River is a good addition to the stable for those who want a quiet, secluded golf experience that few know about in Michigan.
It's about that time for northern Michigan golf to perk up. By the way, check out MichiganGolf.com for some great deals on northern Michigan tee times.
No feedback yet
Comment feed for this post
Leave a comment