Monday morning caddie: What is Rory McIlroy doing hitting driver at the Masters?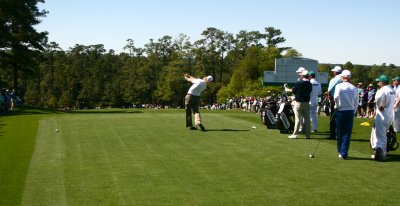 Charley Hoffman tees off on No. 10, without a driver, during the Wednesday practice round. (Brandon Tucker/TravelGolf)
On Wednesday, walking my first Masters practice round, we walked down the left side of the 10th hole at Augusta National Golf Club. Just off the tee, you pass the handful of white cabins not more than about 150 yards out or so.
If you would have told me a professional golfer would land his ball between two of them, I would have thought it was from Phil Mickelson blading a full swing, 64-degree lob shot left of the 18th green or something. No way could a golfer's tee shot end up there (then again, I wonder if any lucky members of the media playing Augusta National this afternoon will find the houses on the left).
I was also a little surprised that not only was McIlroy in bounds, but no one in those houses came out to yell at him for hitting out of their yard. That's what always happens to me on my Sunday round, even when I'm just running in to pick the ball up!
McIlroy's putter spectacularly failed him all day Sunday, but his pull hook with the driver surfaced on the back nine, when the pressure was at its highest. I remember watching him earlier in the week and seeing him hit driver on No. 10, 13 (and to a lesser degree 17 and 18) and wondered why. He's a big hitter and could easily find a safe landing zone with lesser club. He was playing with fire.
Most of the veteran big hitters like Tiger Woods and Angel Cabrera weren't hitting driver on the 10th, and so were some newbies to Augusta National like Charley Hoffman (pictured hitting a fairway wood). But McIlroy hit the big dog at 10, as well as the 13th hole. He learned the hard way why he shouldn't. Just because you have the shot on Friday or Saturday, it doesn't mean you'll have it in your shaky hands on Sunday.
Veterans have learned that. Rory hasn't.
McIlroy and Alvaro Quiros were the tournament's longest hitters, but neither ended up being a factor at the end. I'll be curious to see what McIlroy pulls out of the bag at No. 10 and 13 in 2012.
2 comments
Comment
from: Tour caddie [Visitor]
You have no experience at golf on a tour level... Your comments are embarrassing to all your fellow arm chair experts..
2011-04-12 @ 14:07
Comment
from: harry collins [Visitor]
Just wondering what your opinion of Rory is following the US Open. His play has shown you up as somebody who can neither talk the talk or walk the walk.
2011-06-19 @ 14:30
Comment feed for this post
Leave a comment