Instant reaction: Golf on the new, old Pinehurst No. 2 after Coore and Crenshaw restoration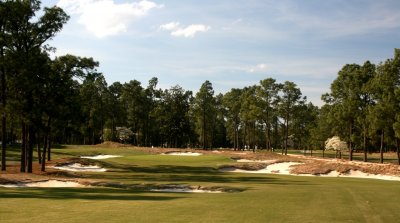 PINEHURST, N.C. – I'll publish a more formal golf course review on Pinehurst No. 2 next week. But here is my immediate reaction, coming straight off the 18th green and into the Carolina Hotel's Ryder Cup Lounge, of No. 2's restoration:
I wrote a review of Pinehurst No. 2 in February of 2010, when Bill Coore and Ben Crenshaw were on property discussing the changes. It was the last few weeks before the course began its transformation. I was a fan of the course at first sight, but understood why some guests might have felt the experience wasn't worth the premium sticker price. Unlike Whistling Straits or Pebble Beach, where you're smacked in the face with visual drama, Pinehurst has more subtle beauties to it. When some golfers pay big money, they want grand scenery.
So kudos to Pinehurst for swinging for the fences on their renovation. In gutting the rough, the owners knew there would be some golfers, whether Pinehurst members or tour pros, who wouldn't like the new look at first sight.
But they also knew that Coore & Crenshaw have legions of admirers, and the team would deliver an authentic replication of the course that Ross intended.
I really like how the course looks from the tee now, and fans of links golf will detect a lot of similarities, especially when the fairways grow in and get quicker. If I had a complaint on No. 2 from 2010, it's that there weren't enough great tee box visuals, only great greens complexes.
Now, there are some tee boxes where you can stand there and drink it in a little. Some tees were even lowered a foot or two to let a little uncertainty creep into the golfer's mind a little. Others let you see it all, and are that more intimidating.
I certainly used my camera a lot more this time around, that's for sure.
I was especially fond of the new-look 13th hole:
And yes, I found myself in the wire grass and waste areas a few times. The first time I found the packed waste area was to the right of No. 4 fairway. I slipped on pine needles during my follow through so bad I topped the ball straight into the bunker 20 yards away. A downwind par 5 ruined.
No two lies were alike when I strayed off the fairway. Sometimes my ball was behind a tuft of wire grass, other times it was firm hardpan, other times a little fluffier. Suddenly, the rough is rough again, and it's more of an adventure than your typical bermuda lie. I think that's what has the USGA tickled pink about the new Pinehurst. The pros are going to face some lies they don't see at the other events on tour.
While the big talk is of the removal of rough and installation of the native sand areas, the greens were also reseeded with a Penn G2 bent grass (with future sodding of A1 and A4 bent). It's a little grainier than the bent you might find up in Michigan, and honestly I thought it was bermuda at first. Speeds, according to my caddie Bobby, were running at 8.5 on the Stimpmeter. While on the slower side, they were ultra smooth, with the poa annua long gone. I dropped in putts left and right, thanks to some good reads from Bobby (he said it's taken some getting used to reading the greens, generally there is less break than before), as well as a putting tip I got from watching Nick Faldo on TV a few months ago: keep your weight on the back of your feet to anchor yourself - it's worked like a charm!
I'm guessing No. 2 is really going to grow into its new suit in the coming years. I'd like to see the turf go under a full summer of growth and also see the greens get slicker (according to Bobby, the greens will be back to a 10 by the North and South Championship this summer). I also want to see the newfound native areas continue to get a little scruffier.
If you want to be one of the first to see No. 2, you can play it now and it will be a lot of fun. But if you want to see it at it's best before plunking down the cash, I'd wait until later this summer or early fall.
1 comment
Comment
from: Mark Nessmith [Visitor]
Good stuff, BTuck. I'm jealous!
2011-04-06 @ 01:43
This post has 1 feedback awaiting moderation...
Comment feed for this post
Leave a comment