Trade in your home for golf course real estate at west Michigan's Tullymore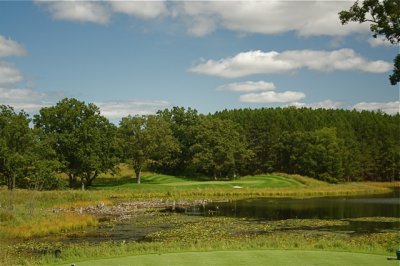 Trade in your house? Interesting … This comes from a news release from the Resorts of Tullymore and St. Ives, about an hour north of Grand Rapids on Michigan's west coast:
For anyone dreaming of owning a home at one of the country's top golf destinations but is stuck with a house you cannot sell, the owners of the Resorts of Tullymore & St. Ives have just the deal for you.

If you commit to buying a house or condominium at Tullymore, the resort will buy your home off your hands for its appraised value.

"It's a simple as it sounds, you buy our house and we will buy your house," said Terry Schieber, Tullymore's chief executive officer. "If you can't sell your home, move to Tullymore."
They liken the process to trading in a car at the dealership. Now, I've seen the auto trade-in process first-hand, so I'm a little skeptical as to what "fair market value" really means. The last time I took in my Nissan Altima to the dealership for a "no pressure appraisal! We pay top dollar!" Tent Event special, they low-balled me by about 50 percent – then tried to get me to sign on a car they didn't even have in the lot yet.
So I'm officially damaged goods when it comes to trade-in marketing, but the folks at Tullymore promise an honest deal. If you're sitting on a house you can't sell (like just about everyone in metro Detroit), it wouldn't hurt to give them a buzz.
Based on everything I've learned in two visits to Tullymore and St. Ives, the development appears to be on the right path when it comes to growing out a golf course community in a sustainable way. A big reason why they're offering this trade-in deal, according to Tullymore, is because they are free of mortgage debt with their properties, so they can take on yours. They also opened a new $7 million clubhouse in 2009, part of $50 million invested recently.
If you do purchase property at Tullymore, you'll be living on one of the best golf courses in Michigan. I absolutely love the hole variety, which comes with five par 3s and five par 5s. Each tee box presents something totally different, which is probably why it's the darling of most golf course publication ratings. In my view, it's right up there with Lake Michigan must-plays Bay Harbor and Arcadia Bluffs.
And if you don't need gorgeous lake views with your golf, it's a shade better.
As good as the course is, architect Jim Engh is also proud of the fact he built the course for under $3 million. That's pretty thrifty construction, but looks as good as any high-end Michigan golf course. It serves as a good indicator that Tullymore isn't one of the many developments coast-to-coast in over their head.
WorldGolf.com contributor and golf course real estate expert Larry Olmsted recently profiled Tullymore and Crystal Mountain in a recent feature for GolfCourseRealty.com. Or, check out TullymoreGolf.com if you're interested in the deal.
And if you end up doing it, please let us know if it really was as hassle-free as officials say. Maybe someone at Tullymore wants my Altima.
Also, Tullymore has joined the GolfNow.com stable for 2011. So book your tee times for Tully and nearby St. Ives Golf Resort here.
2 comments
Comment
from: Deanna [Visitor]
I wanted to share with you information about two courses in South Carolina that may be of interest to your readers. Also, we can try and coordinate giveaways tied to either in order to help generate excitement. Please let me know if additional information is needed. If you're ever in the area, we'd love for you to come experience the courses firsthand as well.

Wild Dunes Resort, a four-star destination nestled on the Isle of Palms beach near historic downtown Charleston, offers golf enthusiasts the opportunity to play two Tom Fazio-designed courses – The Links Course and The Harbor Course. Recognized most recently by Conde Nast Traveler as one of its "Top 20 Southern US Golf Resorts" and by Golf Digest as a "Best in the State" for golf, Wild Dunes offers two challenging courses perfect for any skill level. To view footage of the courses, click here.

Currently, the Resort is offering a Ladies on the Links package good for any foursome of women that includes spa services and dining specials. There is also a Fazio Sampler package featuring both courses ideal for twosomes.

Thanks,

Deanna R. Trimmer, Public Relations Intern
Rawle Murdy Associates, Inc.
Post Office Box 1117, Charleston, SC 29402
phone (843) 577-7327 (ext. 127), fax (843) 722- 3960
www.RawleMurdy.com

2011-04-04 @ 08:49
My wife is from Toledo and we visit Charlevoix every year around July. We played Belvedere this lastyear along with others for a week. In our business of golf course and country club real estate in Houston we always like reviews of new courses to try and recommend to clients.

Thanks!
Kevin Read
Country Club Lifestyle Realty
9525 Katy Freeway Suite 420
Houston, Texas 77024
832-470-6567
www.CCLifestyleRealty.com
www.HomesInMemorialHouston.com
2011-12-19 @ 08:10
Comment feed for this post
Leave a comment