Stay and play Torrey Pines in style at the Hilton La Jolla in San Diego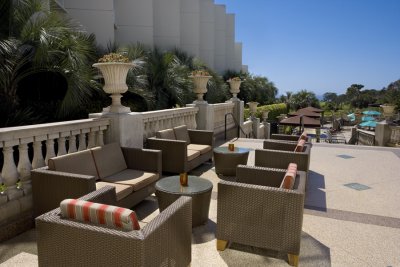 LA JOLLA, Calif. – There are golf resorts in San Diego of all shapes in sizes. Few have the setting of the Hilton La Jolla Torrey Pines.
I had the chance to stay two nights at the Hilton during my recent San Diego golf trip. Even though teeing it up at Torrey Pines wasn't on the menu, La Jolla was a good spot to set up base camp. For starters, The hotel has nearly 400 guest rooms but certainly feels much smaller than that. Guest rooms overlook Torrey Pines' 18th hole and the ocean beyond. The larger suites have oversized balconies that you can dine on privately. It's quite a scene to wake up to and gets you excited for golf at the crack of dawn - even if you're playing elsewhere.
On an off day, you can play tennis on site or just hang at the pool. The property especially caters to large groups, but there was a fair share of leisure travelers during my two-night stay. Be sure to leave a little room on the schedule for some beach visiting (sadly, I didn't have the time), because you're minutes from some of SoCal's best.
The hotel's location is a great base to explore nearby La Jolla town center a few minutes away. You can catch the sunset (which I missed by a few minutes) down at famous La Jolla Cove or pop into the small town, where there are some great restaurant options. Heeding the advice of more than one person I'd met in the area, I stopped into the Karl Strauss Brewery, which serves up their own craft beers on draft plus upscale pub fare. I opted for the fish tacos at the suggestion of the bartender and one of their hoppy, Czech-inspired Woodie Gold pints. She brought me one of their wheat beers to sample though, saying it pairs better with the fish, and she was right. Wheat beer and fish tacos, who knew?
If San Diego is on your itinerary, check out the Hilton La Jolla's "Play like a pro" package that includes lodging and golf at Torrey Pines for as little as $369. Next door, the Lodge at Torrey Pines also has their own stay-and-play specials.
Or, if you want to stay somewhere even more luxurious in the hills, stay at Rancho Valencia Resort & Spa near Del Mar, which also offers preferred access to Torrey Pines and some area private golf clubs.
No feedback yet
Comment feed for this post
Leave a comment