Golf travelers: Check out the new heavy duty line of Wilson Staff luggage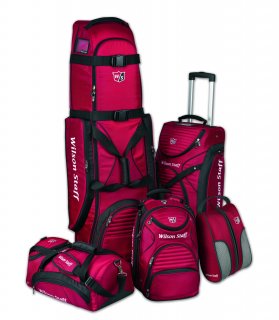 Wilson Staff has released a brand new line of golf travel gear for 2011, and I've had the chance to try a two pieces out on my last couple golf trips.
I've had some rotten luck with luggage in recent years, most of which was my own doing. When you buy the cheap stuff, like American Tourist at Wal-Mart, they're going to last the regular traveler about five months. I broke the handle off my carry-on roller, and it'll cost more than the bag itself to get it fixed.
So suffice to say, I've become a little more discerning with my luggage. The new Wilson Staff line, which comes with everything from a golf club travel bag to duffel bag, roller bag and backpack, are built with strong 1680 polyester. Each comes in the Wilson Staff red with white lettering.
These pieces are certainly more heavy duty than the discount stuff. They are built to last with strong zippers, fabric and handles. The articles inside should stay protected too. I smuggled a bottle of wine home on a two-connection flight with no incident.
The Wilson Staff Backpack (17.5" x 12.5" x 9") comes with a lot of compartments and is great for the road. If you're like me, you like carrying your laptop in a backpack and not a shoulder strap bag and this has a laptop compartment in it. The backpack also has a long, skinny side pocket that goes down one side (that I still can't really figure out what to put in there), plus a couple other pockets on the back.
My current North Face backpack may beat it out only that it has two straps that wrap around the front to help your back if you're lugging a big load. But I like the compartment choices better with the less expensive Wilson Staff model. Online prices start at just $49 plus shipping.
The Wilson Staff Wheel Bag (34.5" x 16.5" x 13") is a good size if you're going on a trip of about 4-6 days. Aside from the main compartment, it also has two side pockets (to put your sandy swim trunks or sandals if you were on Great Exuma Island), and a small top compartment that is good for toiletries or anything with liquids. The pull out handle feels extremely solid, and so does the top handle. I don't think this is going start showing any wear-and-tear for awhile.
If I have a knock on it, it's that I wish it was a little smaller so it could be a carry-on, so you should opt for the duffel bag if you can't avoid airline bag fees. Online prices range from $125-150.
For your golf clubs, the wheeled travel cover is going for $149 on eBay new right now, and comes with padding from head-to-toe for club protection.
No feedback yet
Comment feed for this post
Leave a comment