GolfNow.com tee times presence beefed up for 2011 golf season in northern Michigan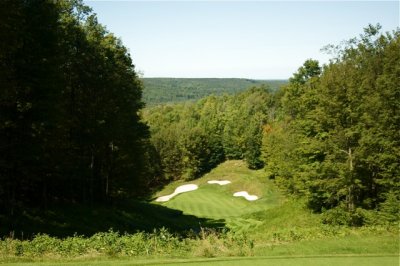 If you're a big fan of golf in northern Michigan like me, you'd be happy to know that GolfNow.com has added a slew of the region's top plays leading up to the 2011 summer golf season.
Last week, Treetops Resort, home to five of the north's most dramatic mountain courses, joined the online tee times network. All four 18-hole courses can be booked at GolfNow.com, as well as their 9-hole executive course, Threetops (pictured above). My favorite of the lot is the Tom Fazio-designed Premier course, which is buckets of fun to play with elevated tees, wide fairways, and even a few uphill holes that keeps you honest.
Another multi-course resort, Shanty Creek Resorts, recently joined up as well. This four-course resort is headlined by the Tom Weiskopf-designed Cedar River course, which is a little more tame than the roller coaster rides at Treetops. A couple other favorite's of mine now booking tee times on GolfNow.com are Black Forest, Forest Dunes and the Tribute course at the Otsego Club.
You can also book the Jim Engh-designed Tullymore Golf Club at GolfNow.com. Just look for it in the Central Michigan section as its location is a bit in no man's land between northwest Michigan and Grand Rapids.
GolfNow.com's last-minute database could serve as a good travel tool for those looking to leave their Midwestern cities like Detroit or Chicago for a last-minute trip. Or, with long summer days, it's pretty easy to play a P.M. round if you're up for 36 holes. So you could book a golf package with one of the resorts and then leave some space open in the afternoon to book a bargain bonus round nearby through GolfNow.com.
No feedback yet
Comment feed for this post
Leave a comment