Idiot Alert: How NOT to drive a golf cart
SAN ANTONIO, Texas – Anyone's curiosity will spike when they drive over a hill and see this: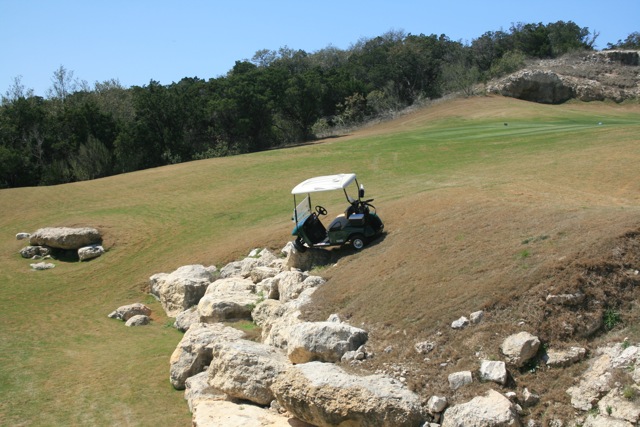 Turns out, the group ahead of us had a mishap at the Palmer Course at La Cantera's 18th hole. According to the bag boys who saw the whole thing go down, one of players drove their cart well past where they were allowed, found themselves out of control headed down a steep hill, and slid onto limestone outcroppings.
The driver fell out of the cart, rolled over the rocks and tumbled down the hill. He was taken to the hospital as a precaution, but those who saw him off said he'd probably be okay and didn't suffer anything injuries too serious.
Apparently this group has played here before and knew the terrain, which probably means the driver got too cocky as to where he could take the cart. He paid for it horribly.
There is nothing extraordinarily dangerous about the 18th if you simply follow the signs. For starters, the grass is dry as a bone (we haven't been getting much rain here in the Hill Country). Also, when my group was in the fairway, not only are there signs in the fairway directing golfers to the cart path well before the downslope, but the GPS unit also beeps and signals to exit the fairway to the cart path.
In the clubhouse, we had lunch and enjoyed an impromptu tractor pull show from the maintenance team: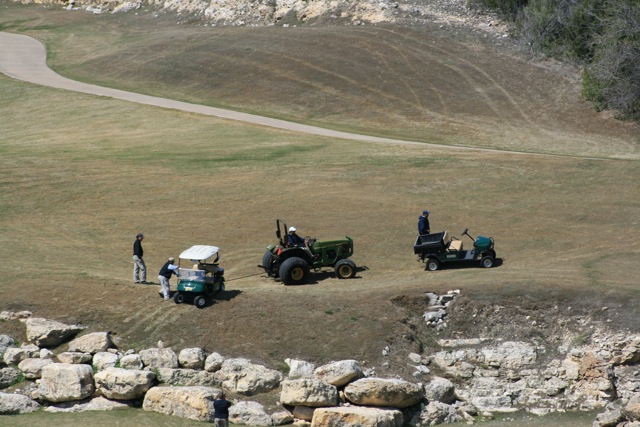 Thousands of people are injured in golf carts each year and some are killed. So just remember to take the precaution signs seriously when you're in one.
2 comments
Comment
from: Lester Hinson [Visitor]
Classic! But what do you expect from people who live in Texas?
2011-03-14 @ 02:27
This hole is even less tricky and this golf cart can't swim! http://twitpic.com/49hp38. I wonder how many golf cart accidents there are every year?
2011-03-14 @ 11:36
This post has 3 feedbacks awaiting moderation...
Comment feed for this post
Leave a comment