Get a nose for Texas wines at the Westin La Cantera Resort in San Antonio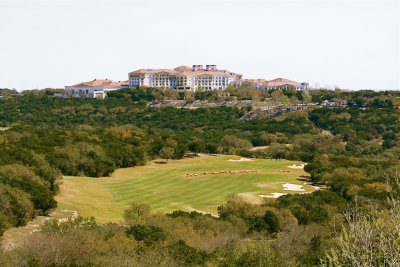 SAN ANTONIO, TX – Westin La Cantera Resort Sommolier Steven Krueger tells the story of how one of Texas' first winemakers, Bunny and Richard Becker began Becker Vineyards in the early 1990s near Fredericksburg.
After touring much of Europe, they learned that parts of south France had a similar hot climate and limestone bedrock as the Hill Country of Texas. They looked into growing their own grapes back home, but their consultant recommended they the pull the plug on it.
"But being the good Germans they are," said Krueger. "They decided to do it anyways."
They've been brewing beers in Texas like Shiner practically as long as the Germans settled here. Wine however, is a relatively new passion. Today there are 215 wineries in the state compared to 46 in 2001. Krueger has increaed the amount of Texas wines they carry at La Cantera's restaurants to around 40.
These state wines help tie the knot on a food & beverage scene that is heavy in local ingredients and imaginative dishes. At Francesca's, they have a fantastic, chili-rubbed filet mignon that might go great with a McPherson Cellars Sangiovese (even though, I had beer with my cut. After golf, I crave beer).
Other meals at La Cantera are Texas-inspired - but not so subtly: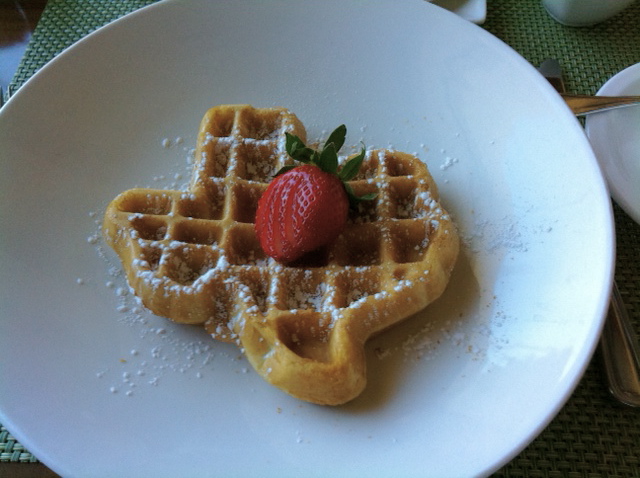 Where did they get a state-shaped waffle maker? But back to wine…
You can sign up for a wine tastings that take place at happy hour in the Steinheimer bar at the resort that are guided by Krueger (daily in-season, then a few times a week off-peak). A sitting features four different wines ($10) or buffs can even do a full week of daily samplings and taste up to twenty.
The hot, often dry Texas climate and soil is certainly nothing close to northern France or NoCal. Because of this, don't expect to find wines with the same flavor. instead, expect what Krueger describes as a dusty, minerality from the limestone.
Dusty, minerality is a good thing? We'll let your palette be the judge.
Texas wines are certainly a different experience compared to popular Californians. The staples of the wine aisle, like Chardonnay, Pinot Grigio and Cabernet don't really flourish in Texas, where the agronomy is entirely different. Instead, grapes like Viognier, Sangiovese and Syrah blends are what the region is known for doing best.
"I can pour a Viognier from California, France and Texas, and the Texas one will be as good if not better," notes Krueger.
And for wine with some good ol' Texas barbecue? Krueger recommends an El Guapo from Alamosa Wine Cellars.
Something to consider if you're in town for the Valero Texas Open next month and will be looking to stay-and-play in San Antonio. La Cantera will also set up their Resort course to PGA Tour specs, so you can play like the pros.
No feedback yet
Comment feed for this post
Leave a comment