Stay and play one of Hawaii's top daily-fee golf courses: the Dunes at Maui Lani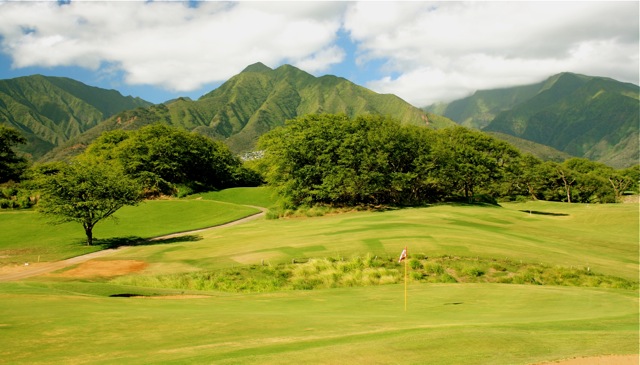 You don't have to have to be a golf resort to offer a golf package in Maui. Check out a new golf package offered by the Dunes at Maui Lani and partnering hotel property, the Maui Coast Hotel.
The Dunes at Maui Lani is a course I played back in December, and it's unlike any of the other seven courses I played on the island. It's a mix of rolling, sandy dunes holes, plus a few up-and-down hilly holes set in the flat stretch of land between Mt. Haleakala and the West Maui Mountains. I have a hard time calling many courses "links style" when they have bermuda grass, but the sandy terrain, pot-style bunkers, and usual trade winds certainly give a links feel to it.
It's also very affordable, whether you book it separately or through a golf package with the Maui Coast Hotel in nearby Kihei. Kihei is one of the busier spots in Maui, lined with a stretch of a couple dozen condos and hotels. It's not as secluded of a spot as Kapalua, but that also means there are far more bar and food options, including some great sushi restaurants. There is also plenty of beaches to find your own little sunset spot.
You can stay-and-play, with a round of golf for two, as low as $295. Of course, if you're accommodations are already spoken for, you can book tee times for Dunes at Maui Lani and most Maui courses here.
No feedback yet
Comment feed for this post
Leave a comment