A real, real quick sneak peek at famous muni Coronado Golf Course in San Diego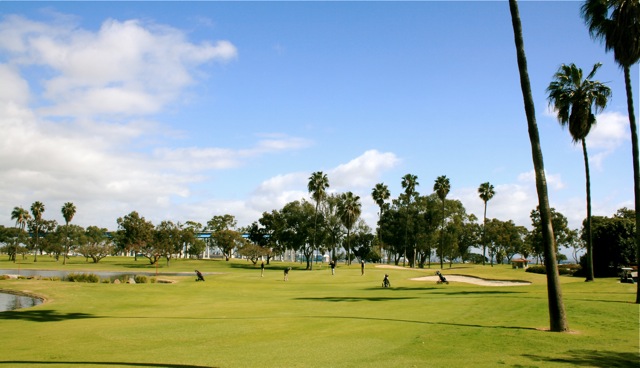 Coronado Golf Course near the heart of downtown San Diego
SAN DIEGO – I had a little extra time to spare before I was due back at San Diego Airport (which I like a lot, by the way, far less of a madhouse than the forever under construction LAX). So I thought I'd go check out one of America's great, affordable (and busy) municipal golf courses, Coronado Golf Course.
I wasn't expecting to get in any holes, just have a sneak peak around and soak in the scene for a few minutes. I love muni atmospheres: the jean shorts, the brownish Top Flite IIs you find in the weeds, and the crackling megaphones.
Next time I come back for golf in San Diego, I'm trying my luck as a walk-on to see if I can see the whole thing.
Coronado's setting certainly has to be one of the more special settings for a muni out there. The drive in on the Coronado Bay Bridge from downtown San Diego to the mysterious little sliver of land is gorgeous at all angles. I just wish I was riding shotgun so I could take in the city and harbor views and cliffs to the north a little more without hurling over the side into the harbor ala poor little Baxter in "Anchorman."
When you arrive at Coronado's clubhouse that sits about 100 yards off the water, it's like something out of the Caribbean. The land is dead flat, but dotted with ponds, flowers and palm trees, and there is just the faintest sea breeze coming in. I couldn't think of a more pleasant way to spend an afternoon on the golf course (as long as the rangers are keeping pace of play moving), especially considering you can play here for as little as $30 on the weekday or $15 twilight.
Coronado is no secret. I've read it can get up to 100,00 rounds per year and it's tough getting a tee time. Click here to learn their policies, which will require some advanced planning and maybe a backup plan. But you can walk-on here, and in my few minutes sniffing around I did hear the starter call out walk-ons to the tee. It's wall-to-wall fourballs out there, some walking and some riding.
Coronado shows the formula for a successful golf course is pretty simple. Find a scenic piece of land within an easy drive of thousands of golfer's homes (and an international airport). Then, build a walker-friendly, easy-to-maintain layout that isn't 7,000-plus yards of slow play, maintenance salaries and fertilizer.
Build it, and they will come…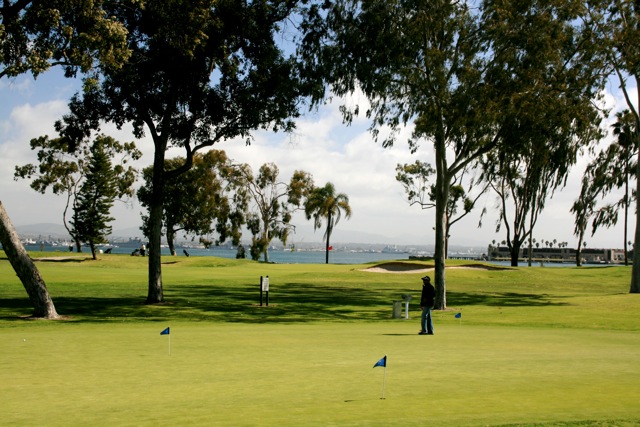 1 comment
Hard to believe, use to live on Glorietta Blvd, across from the sand bar. All that area use to be sand domes and ice plant. Use to pull in wood, cut and burn at home. Its a beautiful course, was able to play it about ten years ago. The waters around there use to have a lot of Sting a ray's we use to go after.
2011-02-25 @ 15:38
Comment feed for this post
Leave a comment