Golf on a budget: Stay and play at tour-worthy Carlton Oaks in San Diego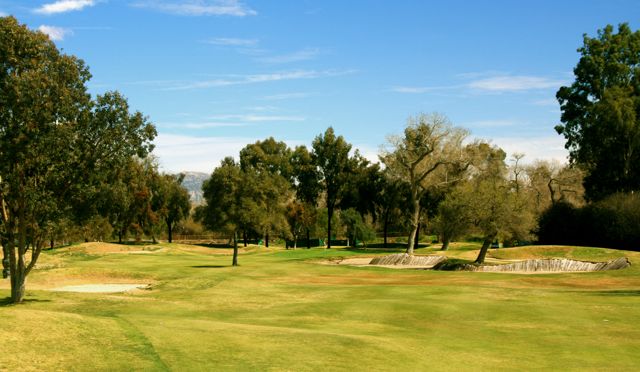 SANTEE, Calif. – When elite golf events in San Diego aren't being held at Torrey Pines South, in many cases they're held just a little off the coast at Carlton Oaks Lodge & Country Club.
It's a lesser-known San Diego-area course compared to some of the bigger resorts, but only to out-of-towners. Today's tee sheet at Carlton Oaks was stacked with players who took advantage of a Monday off work for President's Day. I was one of them, and the course is a real beast that calls for all the shots. It's a traditional, walker-friendly layout in a low lying valley. But the original, William Mast layout from the 1950s was juiced up by P.B. Dye, and now it's still one of the area's toughest plays. Aside from the railroad ties and long length, it still feels like a grand old walk.
Golfers can play for $49 or less on a championship caliber design that plays up to 7,400 yards for college events, Canadian Tour or PGA Tour qualifying. I played the 6,700-yard set and it was plenty of golf for me. Considering the area is drying out after a long weekend of rainstorms leading to minimal roll in the fairways, some of the back tees looked downright scary.
Off the course, there is a 60-room, on site lodge that won't compete in luxury with the Lodge at Torrey Pines or Hilton La Jolla at Torrey Pines anytime soon, but for more basic and convenient accommodations right on the golf course it's a good bet. Click here to view a variety of stay-and-play packages at Carlton Oaks at TravelGolf.com A couple packages are 36-hole deals, and lower handicaps will definitely want to a second crack at this course.
A full course review of Carlton Oaks, plus photos will be coming soon. In the meantime, if you've played there, let us know what you thought.
No feedback yet
Comment feed for this post
Leave a comment