In Tribute to the Riviera's famous 10th, what are the best short par 4s you can play?
The 10th hole at Riviera Country Club is one of the holes I'd most love to play some day. Seeing as though my Hollywood and SoCal connections probably couldn't score me tickets to a George Lopez Tonight taping, I'm left with settling for some of the great, public access short par 4s I've teed it up on.
First off, is the 9th hole on the River Course at Blackwolf Run. I love the three options off the tee: aim well left and safe and be left with a long, short iron in, take it over trees and leave yourself a shorter, but delicate wedge shot - or play it over the river and through trees and go for the green.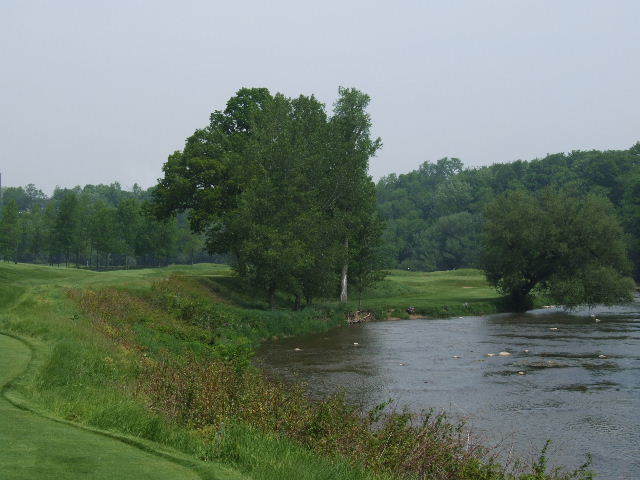 I don't automatically love everything Pete Dye does, but thanks to holes like the ninth that bait you into trying to be Superman, the River course is one of my favorites. (Course review: Where bad course management goes to die: The River Course at Blackwolf Run).
While the 16th at Bandon Dunes is another must-play, A controversial shorty is the 14th at Bandon Trails at Bandon Dunes Resort. It's got one of the prettiest tee box views at the whole resort, even though its well off the coastline. The green is practically un-holdable if you're in a bad position in the fairway, and plenty of golfers have muttered to me it should be blown up. I've never parred the thing in three tries, but I'd rather it was left the way it is.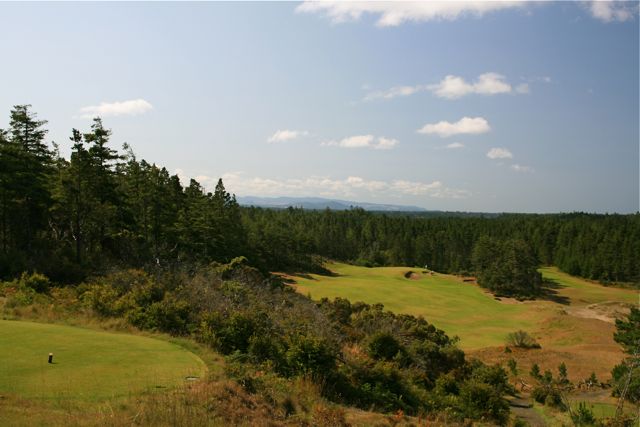 Over in Scotland is a great, short par 4 closing hole at North Berwick. I love this hole because it's a lot like the 18th at the Old Course in St. Andrews (wide, double fairway shared with the 1st hole on the left, and parked cars all down the right side). It's even got a "valley of sin" but it guards the right, not left side of the green.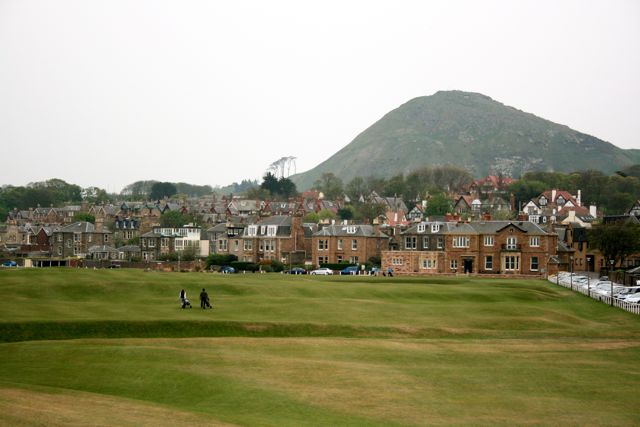 I like how so many links in Scotland, like St. Andrews, Gullane No. 1, North Berwick and Prestwick end with short, par 4 birdie tries and not the typical, 450-yard dogleg left you see so often in modern course design.
My favorite new short par 4, or at least the best blend of scenery and decision-making, is the Makai Golf Club at Princeville's 14th hole, which I've written about plenty by now.
None of the above are as tough as the Riviera's 10th though (Maybe Bandon Trails' could come close). It just goes to show that all it takes sometimes is a tiny, awkwardly-shaped green to cause fits to anyone's game.
3 comments
Comment
from:
Ken Barley
[Visitor]
The 14th at Bandon Trails is awful. Played it several times and there is nothing controversial about it. The green holds no shot, not even wedges or chips. The 8th on Bandon Trails is a great short Par-4. One a lot of players can make 2 or 6 on and understand is was their own doing.
2011-02-18 @ 08:38
Comment
from: Dave Holland [Visitor]
I've played the 10th at Riviera and it is all about angles. No matter where you hit your drive the second shot is touchy and either over the bunker to an nothing of an oblong green or just coming from a bad angle to try and hit a tiny target.
2011-02-18 @ 10:14
I played BT once and hit driver up high on 14...held it up there, had a little pitch into the green, held the green and made 4. Same with #16 on BD in two tries...up left, pitch on , two putts. Maybe I was too aloof to realize what I was doing. Doak, Coore/Crenshaw and Kidd understand the shortie and its value. The one way to kill it is to put a death hazard (like water) in front of it. Old Course has at least five great short par fours, with #1 the only one that has water in front. I agree with your conclusion that a ... conclusion should be a shortie, to leave the player with a chance at glory and/or a good closing hole.
2011-02-18 @ 13:18
Comment feed for this post
Leave a comment