Just how icy cold was it on the golf course in Scottsdale this week?
SCOTTSDALE, Ariz. – Today was the first day of the week that it finally started to feel like it should in the Valley of the Sun. While frost delays still plague the Waste Management Phoenix Open, plus scores of golf courses for the daily duffer around it, you could actually feel a little toasty beneath the numerous layers worn in the sun during Friday action.
On Tuesday and Wednesday it was a far different story, and for proof, check out this photo below for example at Troon North. A sprinkler on the range apparently malfunctioned during the night and showered a tree for a few hours, creating this icy new novelty target to aim at: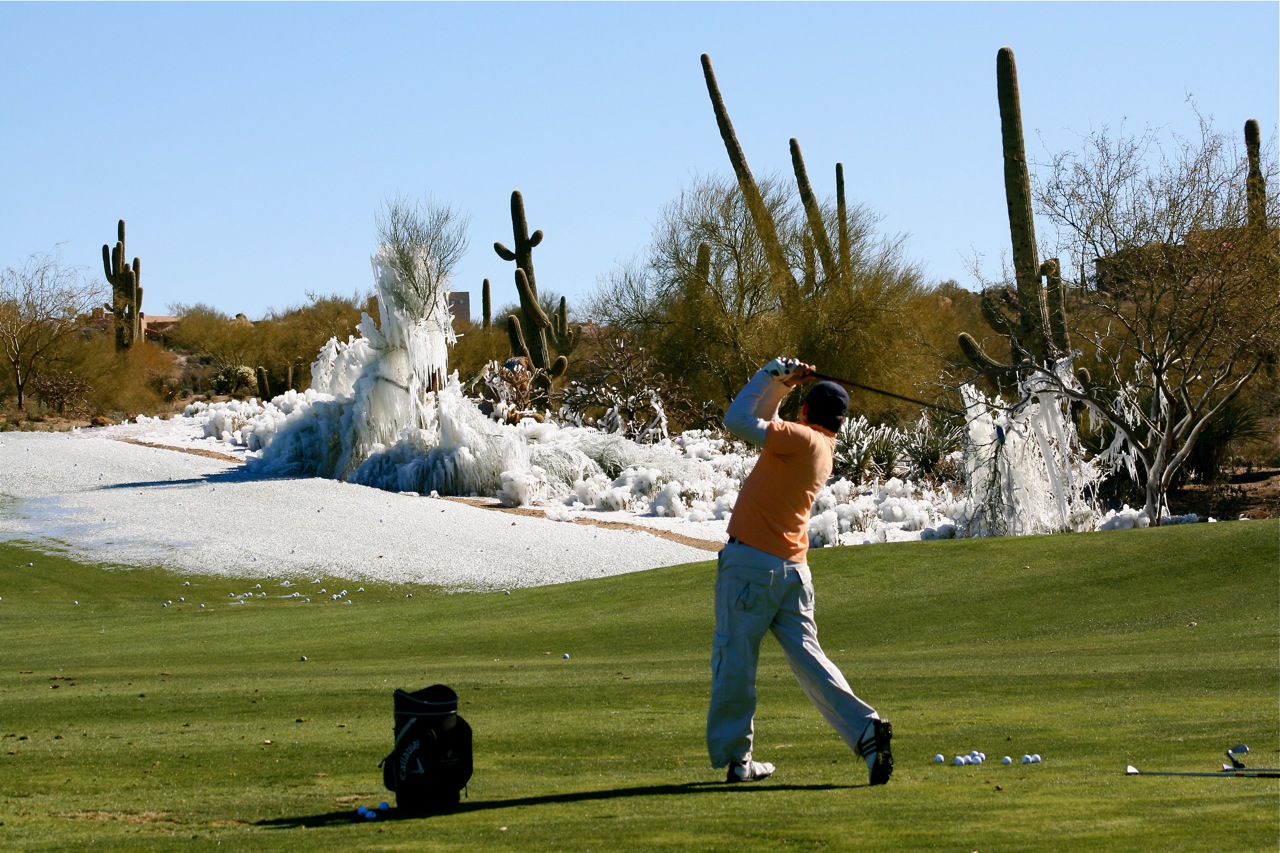 Yesterday, Troon had a stacked tee sheet for both its Pinnacle and Monument courses, and because of frost delays had to institute a shotgun start. The day before, only 40 of about 300 players were able to brave the cold, windy weather that canceled the Phoenix Open Pro-Am entirely (Personally, I'm usually quite a go-getter when it comes to foul weather golf, but I gleefully opted out of my round at Boulders South, and could barely zip around the course for 30 minutes to get photos). Grayhawk Golf Club never opened their two 36 hole courses on Wednesday due to frost, the first time that's happened in their history. This is a big week for the golf courses in the Phoenix-Scottsdale area, and I can't imagine the damage two days of frigid weather did to their bottom lines.
But today, finally, it's back to feeling a little closer to Scottsdale, and should warm up by the weekend, enough for the fratty mess of the TPC's 16th hole to kick it into high gear.
1 comment
Fratty Mess once a year is a great thing, like Match Play, shootouts and other novelty items.
2011-02-06 @ 09:10
Comment feed for this post
Leave a comment