A chilly golf travel alternative: The Ice Tee Tournament on Lake Wallenpaupack near New York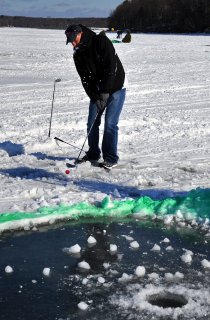 If all my recent posts about sunny golf on Maui have you sufficiently bored, here's something from the chilly side of the golf travel spectrum:
The 20th Annual Ice Tee Tournament on Lake Wallenpaupack
The event takes place on January 30th in the Poconos town of Hawley, Pa., near Scranton and about a two hour's drive from New York City.
Started by a group of local restaurant owners, the event is going on its 20th year, so clearly they've found enough nuts willing to take part (200 participants in the last one). The course is plotted out on the frozen lake and features nine holes up to 130 yards long.
A few more notable characteristics of the tournament:
- "Fairways" are lined by this year's Christmas trees given by locals and local nurseries

- Water hazards are carved into the ice and other "traps" are included on the course – including snow "bunkers"

- Players can bring up to three clubs, including a putter.

- Contests for Wackiest Hat, best sled, others will be given out

-Ice Bar carved from local ice carver will be available outside with full bar service, sponsored by Yuengling
Reservations are encouraged even though walk-ons are allowed ($15 for advanced entry, $20 for walk-ons). If you have some trusty winter gear and your interest is piqued, check out PoconosGolf.com or the Pocono Lake Chamber of Commerce tournament page for details.
4 comments
Thanks for that post. It is always nice to see some fellow ice players around the world. Here in Sweden, we play on ice too. It is lots of fun and very good for your short game. Check out the article in my blog: http://www.exilgolfer.de/2010/12/playing-ice-golf-on-lake-malaren.html
2011-01-07 @ 05:23
Comment
from:
cheap reba mcentire tickets
[Visitor]
Resources like the one you mentioned here will be very useful to me! I will post a link to this page on my blog. I am sure my visitors will find that very useful.
2011-01-10 @ 22:14
Amateur television (ham TV or ATV) is also used for experimentation, pleasure and public service events
2011-01-11 @ 03:56
Comment
from:
Ernie Blais
[Visitor]
We are having our 3rd Annual Ice Golf tournament on March 5th in Berlin, NH on the frozen Jericho Lake.

Visit www.augeropen.com for all the details!
2011-01-21 @ 07:57
This post has 1 feedback awaiting moderation...
Comment feed for this post
Leave a comment