Donald Trump pulls 'Heritage' card to fight proposed wind power complex near his Aberdeen golf development
Does a distant wind farm make a golf experience worse? Donald Trump thinks so.
In looking up the status of his golf course development north of Aberdeen, I came across a handful of new, contentious local articles, like this one from the Scottish Daily Record.
At issue is the proposed construction of eleven, 400-foot-high turbines three miles off the coast from his development. Trump has opposed construction for years, and recently added fuel to the fire. In the latest clippings from the U.K., he sounds like any angry homeowner who bought a house with sea views only to see a high rise condo sprout up right in front of it a year later.
Said Trump:
"Every component of our project is based upon sea views. We cannot allow the construction of what is tantamount to 65-story structures off our coastline. These turbines, if ever built, will in one fell swoop destroy Scotland's magnificent natural heritage. They are noisy and unsightly and we will oppose the siting of this vehemently."
Pretty sensational words coming from someone who is building a large golf, residential and resort complex that could feasibly call on electricity from these wind farms to operate in the future.
I was just in Maui, and those who have been to the island may remember seeing wind turbines along the side of the West Maui Mountains. I looked it up, and it's the Kaheawa Wind Farm. You see these 20 turbines when flying into the airport and from many points down in south Maui, like from the three golf courses in Wailea. You can see turbines in the following photo, taken on Wailea Golf Club's Old Blue course.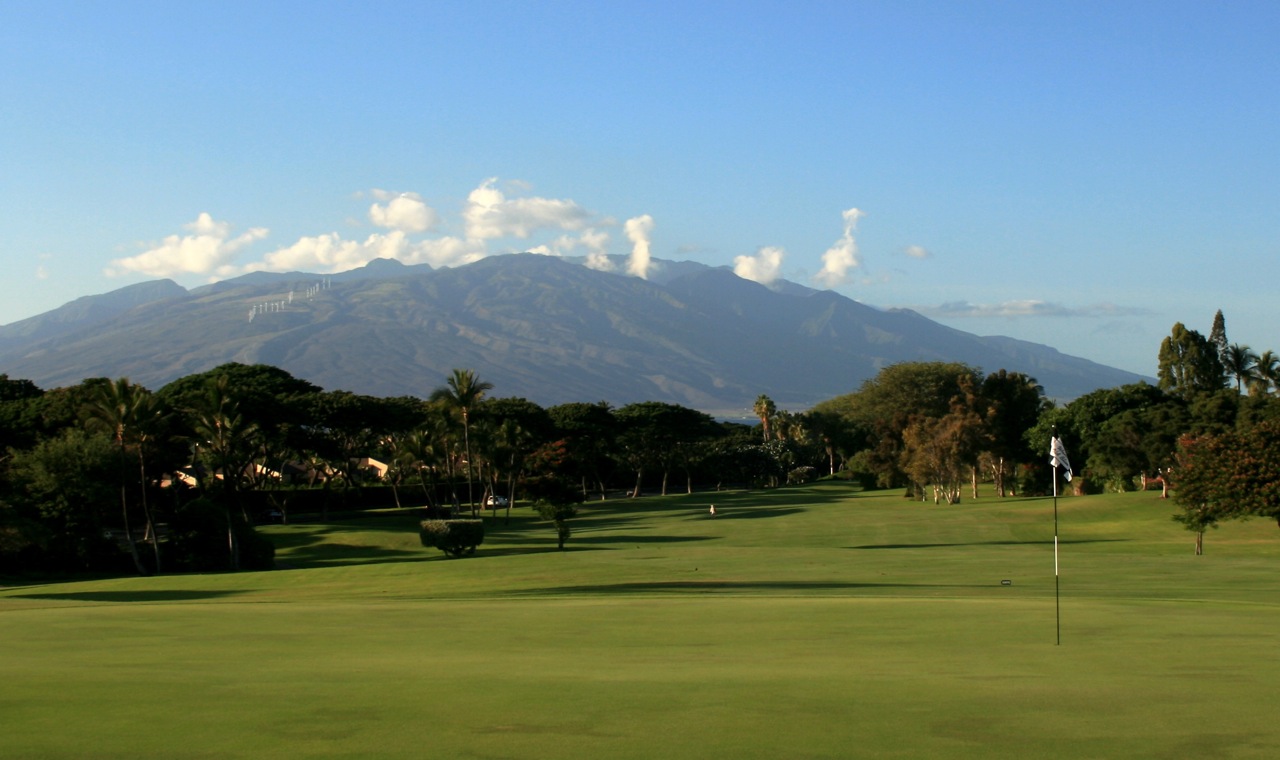 I'll let you be the judge and decide if the wind turbines make this Maui scene hideously ugly - to the point it would cause you to rate Wailea's courses worse or keep your from buying that Hawaii dream house.
And not to sound all uber-hippie, but when I see wind turbines in the distance, I don't see an eyesore. I see a progressive human race trying to lessen their impact on fossil fuels and make the world a cleaner place the best way the know how until we come up with something better.
And hopefully, golf resorts are attempting to achieve the same in their own daily operations as well.
2 comments
Couldn't have said it better. I even enjoy seeing windfarms along the highway. They don't block the view, they just become part of it. Truth is, I would even be more likely to visit a "green" resort. Thanks for writing this.
2010-12-22 @ 19:38
hey there im really glad to find this post here really thanks
2011-01-01 @ 12:59
Comment feed for this post
Leave a comment