See the best of the north with new Ireland golf package including Royal Portrush, Royal County Down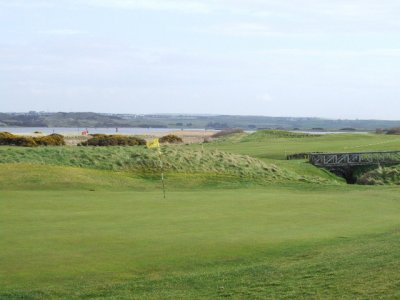 If you're looking for a prime Ireland golf vacation from Santa this Christmas, a new package has popped up on WorldGolf.com that features a sampling of my favorite links in Eire's north.
The six-night, six-round Ireland links golf package from Carr Golf Travel is centered in Northern Ireland and features 4-star accommodations and a roster of courses that are tough to beat anywhere in Great Britain and Ireland.
The undisputed headliners of the six are Royal Portrush and Royal County Down. But the also-ran courses are also some favorites of mine. Cliff-topper Ardglass Golf Club has one of the great clubhouses and opening holes in all of golf. Despite being just a few minutes from Royal County Down, it's an entirely different (and more player-friendly) spin on coastal golf, set high above the sea rather than in dunesland beside it.
Also, the tour features one night away from Northern Ireland and back in the Republic of Ireland to stay-and-play at Ballyliffin. Spending one night up here makes perfect sense, because this is the isle's northernmost course and in the middle of nowhere. I would never want to make my way TO and FROM Ballyliffin back to civilization in the same day. But I also sure wouldn't want to miss experiencing the one-of-a-kind, raw environment of Ballyliffin, either.
Rounding out the package are two links near Portrush on the north coast. Castlerock is a more traditional links course with some great holes right in the town center. Portstewart is a course I missed, but am told lore from time to time about one of its nine's in particular having some of the country's finest dunes.
What I also like about this particular package is that you'll bunk up for two nights at the Slieve Donard Hotel in Newcastle right next to County Down. This hotel originally opened shortly after the railway came through in 1898 and is a fixture of the golf club's backdrop on holes like the famous 4th and 9th. When I stayed here back in 2007, my room here was modern and spacious with big windows and views of the sea (and rain pellets pounding the glass as I waited out a rain delay for 12 hours before getting on RCD the next morning). The hotel's common areas felt more from another era.
The package includes a full Irish breakfast every morning (always one of my favorite perks of an overseas trip). Guests on the package will be met by a Carr Golf expert representative at the airport and have their number on speed dial for the duration of the trip. The self-drive package starts at $2,480 per person and is good through the summer high season of 2011. For more information on the six-nights, six-round Ireland package, click here.
Photo: Castlerock Golf Club in County Antrim (Brandon Tucker/TravelGolf)
4 comments
Have you considered adding some differing opinions to your article? I think it might enhance my understanding.
2011-01-01 @ 17:54
Sushi Totoro is wonderful! My boyfriend and my favorite place for sushi.
2011-01-11 @ 17:33
[...] 5) Is your PDA coming between you and your lover? My top-favorite escape on the entire California Coast (and I wrote the book on it), Mar Vista Cottages ($$$) has ten, vintage-1940s hideaway cottages on ten acres of land on the inland side of Hwy 1, 35 miles south of the village of Mendocinoand its entirely out of cell-phone range. You'll find only the things you need and nothing you don't. Beds have top-of-the-line mattresses and feather-light duvets with high-thread-count sheets; bathrooms have thick cotton towels and handmade oatmeal soap, but no little bottles of shampoo cluttering the vanity (b.y.o.). There's an old-fashioned kitchen, a couple of overstuffed chairs with homemade slipcovers, a collapsible painted-wood dining table, and a fireplace. That's it. No phones, no TVs. In the morning, the owners deliver freshly laid eggs to your room; take your morning coffee to the organic grazing gardenwhich guests are expected to feed themselves fromand snip fresh herbs for your omelet. I can't say enough about this little Shangri-La, and I hate to give away the secret, but it's just too good not to share. Leave your high heels at home. To find hidden beaches to stroll hand-in-hand at sunset, read our Sonoma-Mendocino Coast guide. [...]
2011-01-11 @ 17:35
Comment feed for this post
Leave a comment