Fairmont Presidents Club rewards guests with free rental clubs and more travel perks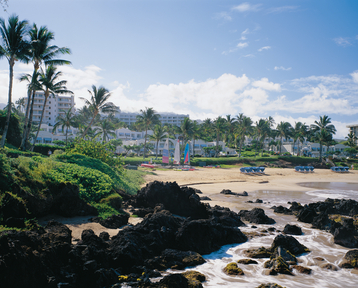 WAILEA, Hawaii – Last week, I was teeing it up on Wailea Golf Club's Old Blue with the Fairmont Kea Lani's new General Manager Charles Head, who just transferred here from the Fairmont St. Andrews.
During the round, he casually mentioned something that demanded my full attention as a traveler whose favorite pastime is weaseling out of fees.
"We have rental clubs at the hotel," he said. "And if a guest wants to check them out, it's free for our Presidents Club members."
Wait a tick, you're telling me FREE rental clubs in a FREE program?
It's true. Fairmont has partnered up with Taylor Made to provide free rental clubs at select properties. Unlike many of Fairmont's other resorts that operate their own course, Wailea Golf Club and Fairmont Kea Lani have different owners and operators. But the partnership is seamless for guests, from free transportation back and forth from the hotel and Fairmont's complimentary rental club offer.
You don't even have to play the three Wailea courses to use the rentals. You could take them up the road to Ka'anapali or Kapalua. Heck, you could probably sneak them over to Lanai as long as you bring them back that night.
The Fairmont President's Club is a lot like a frequent flier program, only the benefits happen instantly - and it's free to join. Among the initial perks are free in-room internet and local calls. At a recent stay in Miami at the Fairmont Turnberry Isle, I checked out a free set of gym clothes for a workout in the Willow Stream Spa fitness center, which included sneakers.
If you're staying up at Banff or Jasper Park (or some of the other Canadian hotels), you can rent out a free BMW bicyle. I took one of these smooth, powerful rides out one evening in Jasper last summer, and had a hard time looking at my dumpy Trek in the handlebars when I returned home.
My least favorite thing about staying in luxury hotels is all the nickel-and-diming that occurs once you've already plunked down the $400 for the room, so its nice to see "luxury" mean "included" at brands like Fairmont.
Once you climb the Presidents Club ladder from the initial Club status to Gold and Platinum, you'll earn perks like dining certificates, room upgrades, two-for-one rounds of golf and free nights.
You don't necessarily need to stay at one of Fairmont's golf-focused properties to rent out the clubs. They have free rental clubs at such city center hotels like the Fairmont San Francisco, Chicago, Dallas and Seattle.
Some of their golf properties, like Turnberry Isle, Banff & Jasper Park and St. Andrews still charge for rental clubs. For a full list of properties that offer free rental clubs with your stay, check out this Fairmont.com and Taylor Made link, or view a full list of Presidents Club membership perks here.
1 comment
I've been a Platinum member with FAIRMONT over the past 3 years and i'm a Platinum everywhere else. I've travelled a lot to Asia last year and was unable to get Status for 2012. I tried and they ditch me. No way they will understand. I imagine when I will go to their property!!!! I will just go and not give them business at the same time. I will also let my consultant know they are not part of our preffered hotels anymore. They will loose a bit of business but hey!, serce your loyal customer better !!!!
2012-03-28 @ 12:37
This post has 2 feedbacks awaiting moderation...
Comment feed for this post
Leave a comment