Tale of two Mauis: Wailea Golf Club's Gold course vs. Kapalua Plantation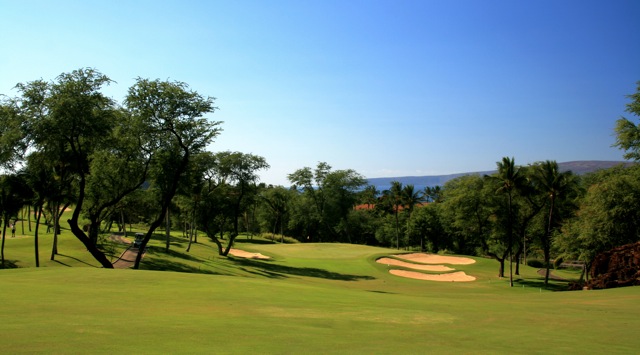 WAILEA, MAUI, Hawaii – The Plantation Course at Kapalua is generally rated Maui's top golf course in most of the big mag rankings. Wailea Golf Club's Gold Course usually nips at its heels.
It leads to an obvious comparison when talking Maui golf, and I had some readers asking me for my thoughts between the two when in Maui last week. One in particular came via Twitter from @WesternGolf:
Waiting for commentary from @BrandonTucker on Maui golf this week. My question: Do Wailea Emerald/Gold compare to Kapalua Plantation?
Both Wailea Gold and Kapalua were built around the same time in the early 1990s. But quite frankly, the two courses don't even feel like they're on the same island.
Wailea is in sunny and dry south Maui, beneath the dormant volcano, Mount Haleakala. The course was constructed on top of black volcanic rock and the original Japanese owners brought in some exotic trees from Australia to add to the beauty of the grounds.
Besides the scenery, perhaps the biggest selling point of Wailea is the climate. Many islanders agree it has the sunniest, calmest spot in Maui and perhaps all of Hawaii. Once you've battled in the trade winds on some more exposed courses and have developed a bad swing habit or two, a round in Wailea helps put all your moving parts back together. The course isn't a pushover by any means, with some tough greens and 7,000-plus yards from the back tees.
From Wailea, it's about an hour's drive north and around the West Maui mountains to Kapalua's Plantation course, where you encounter a greener, rugged landscape, higher up off the coast. The Bill Coore/Ben Crenshaw design is huge, set throughout about 750 acres, which is about double the Gold and Emerald courses combined. It doesn't surprise me that other courses on Maui report their rounds increase a little once Kapalua goes to cart path-only in the weeks leading up to the Hyundai Tournament of Champions.
I encountered the course on an abnormally calm day in the aftermath of a rainstorm. But I could only imagine some of the shorter par 4s, like No. 10 and 14 being a lot tougher when 10-20 mph trade winds are in your face or blowing you sideways. Even on a calm day, Kapalua calls for a lot of creativity around the greens, as you'd expect with a Coore-Crenshaw, and you can swing for the fences on practically every hole (it's even a par 73 with three par 3s). And who doesn't like that?
Lower-handicappers or bucket list golfers will obviously want the challenge of teeing it up where the PGA Tour's best play at Kapalua. Mid or higher-handicappers, or those who just looking for a course that with a hard-par, easy-bogey philosophy will want to stick to Wailea.
If cost is the deciding point, Wailea is usually less expensive (though it always depends on your package or the time of day you play). Wailea Golf Club's Emerald Course and Gold course peak at $190, while walk-on rates at Plantation are $268.
Photo: Wailea Gold's par-4 1st hole plays downhill towards the ocean (Brandon Tucker/TravelGolf)
3 comments
Won't it be great to watch the Tournament of Champions, at Kapalua, without the #2 player in the world? It's going to be a fantastic start to the 2011 golf season!
2010-12-15 @ 18:03
Roseann Howenstine
2010-12-24 @ 17:03
Comment
from: Todd Anderson [Visitor]
Got to play all three courses. The blind tee shots at the Plantation course did bother me but over all the experience here was head and shoulders and ugh, actually at $258 a round a better value then the Wailea courses. The Wailea courses were running $190 a round and $110 for a replay. The difference for me was the customer service. Plantation from drop off to use of the locker room to the 19th hole far out shined Wailea. At Wailea the front desk to the cart guys were uncaring about anything. The courses,Gold and Emerald were okay but too similar. And again I felt I was interfering with all the employees day and definitlely not valued or appreciated.. That's okay got to show your true colors.
2011-02-03 @ 20:09
Comment feed for this post
Leave a comment