Bring home your Maui golf instruction with Kapalua internet lessons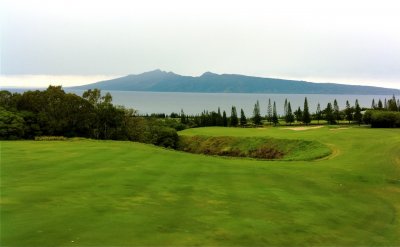 KAPALUA, MAUI – One of my favorite things about golf lessons is the 10 minutes or so after, hitting some balls with a new tip, and wondering just how far you could take it.
A 2-handicap? Scratch? US Amateur finalist and a Masters invite?
I'll admit, I can succumb to those little delusions. On the other hand, the worst part about a lesson, especially when you're in a destination and seeing an instructor just once, is forgetting all the little things he told you a week later.
That's what is neat about Kapalua's Internet Lesson at the Golf Academy ($150 for an hour), just down the hill from the Kapalua Plantation course and across the street from the Kapalua Bay Course.
I had an hour lesson with Ben Hungo, one of the pros at Kapalua. It started much like any video lesson. I took a few swings with my 6-iron, Ben filmed them, and then he determined the most pressing thing he'd like to see change. With my grip in pretty good shape these days (Thanks in part to recent Zenolink training), he suggested a more upright posture with higher hands at setup, to essentially keep my angles on backswing and downswing closer together.
After about 40 minutes or so of instruction and some suggested drills, we sat down at his computer bay. Ben switched on a microphone and recorded a 10-minute synopsis of the lesson, using video to show my before and after swings side-by-side, plus comparing it to some tour pros like Tiger Woods, Jim Furyk and Ernie Els. He could stop and start the video as he pleased, draw all over the screen, and it was all recorded.
Later that day, I received an email from Kapalua with a link to the video. I downloaded it, put it on my IPhone, and now I have Ben's tips for when I return home to the mainland tomorrow and can work on my posture. I can't see Ben very easily without flying back across the ocean, so at least I can keep ten minutes of his advice in my pocket for little reminders when I'm on the range back in Texas. It's a useful concept for destination golf schools that won't see their students again anytime soon.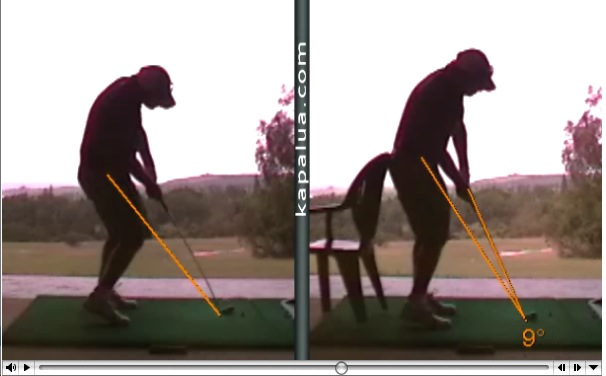 a screen shot of my 10-minute video lesson at Kapalua.
I had my lesson the day before playing the Plantation course. I wouldn't necessarily recommend playing a $200-plus, PGA Tour venue course with new swing thoughts. But after a morning rainstorm (that even caused some severe flooding in other parts of the islands) I had the course virtually to myself and could hit plenty of mulligans guilt-free.
What's most amazing to me about the Plantation is that while its just a few minutes north of dry Kaanapali and Lahaina, this spot is such a drastic shift in environment. Kapalua is a jungly, lush spot, more reminiscent of the Prince course in Kauai - or some of the more vegetated spots on Kauai Lagoons Golf Club.
After a zipline tour in Kapalua this morning, it's finally back to the mainland. Stay tuned for plenty more on Kapalua and the rest of Maui's golf courses and resorts.
1 comment
Check out Brandon's previous article on ZenoLink, "The Golf Swing is Starting to Make a Little More Sense with ZenoLink." http://www.worldgolf.com/newswire/browse/64654-Brandon-Tucker-golf-swing-starting-make-little-more-sense-ZenoLink.

Find out how you can get affordable access to powerful 3-D Motion Analysis that is proven to improve your golf swing. Visit www.zenolink.com today! Also check us out on Facebook and Twitter.
2010-12-21 @ 17:20
Comment feed for this post
Leave a comment