After golf: Maui is the 'Sushi Isle'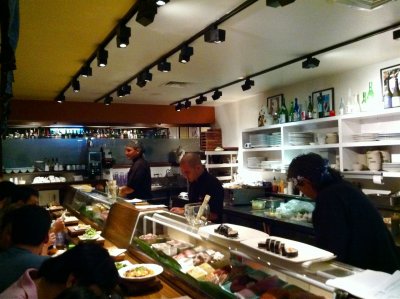 KAPALUA, HAWAII – Golf in Hawaii doesn't necessary leave me starving for sushi. Yet somehow, I've found myself stuffing myself with raw fish almost every night since my girlfriend and I arrived in Maui last week.
The holes-to-rolls ratio is pretty close as I get ready for my final round of the trip on the Kapalua Plantation Course.
But when you're a couple on vacation looking for a dinner spot, sushi is an appealing way to go. You can order as you please, share what you're willing, and usually get a little show from the chefs in between.
Two things I've noticed about sushi on Maui: it's on menus far beyond Japanese restaurants. And everywhere you go takes their own spin on it. "Fusion" is the magic word describing Maui's restaurant menus, largely a result of the many different ethnicities who came here in the years of the plantation boom.
On our first night, we caught wind of a tucked away sushi joint in Kihei, Koiso (2395 S. Kihei Rd). Hidden in a small strip mall, when you stepped inside the place feels like you are in the sushi chef's kitchen (probably because of the big fridge behind him and collage of photos on the wall). There is only a sushi bar with about eight seats and one, four-seater table behind it. The sushi-only menu (nothing cooked as far as we could tell) is written on a dry erase board and you've only got about a dozen or so options.
The woman next to us, a local Japanese American named Yumi, said she likes it here because it's a lot closer to what a traditional sushi spot in Japan is like. It was incredibly casual, yet the fish was superb (and the "extra" spicy tuna roll was as bold as I've had). By the end of the night I had a new favorite raw fish, Opakapaka, a pink snapper native to these islands.
Be sure to make a reservation at Koiso, since it only takes about 12 patrons to fill up the joint.
On the other side of Maui's sushi spectrum is Sansei, a Hawaiian franchise with two locations on Maui: Kihei and Kapalua. Residents I've met here tend to go there a lot, especially for their pre-dinner and late-night half-off happy hours.
Tonight around 6:30, we strolled up to their Kapalua location from the Ritz-Carlton. Even during the pre-holiday low season, there was a 45-minute wait for a table (Sansei takes reservations). Luckily, we found two spots at the end of the sushi bar, and wedged ourselves in for a front row seat to three chefs furiously building rolls before our eyes to serve a packed house.
Sansei has a huge menu full of all kinds of sushi plus cooked dishes in a vibrant atmosphere. Take your time over an initial drink to to read it over before narrowing down your selections. We tried their version of opakapaka sashimi (Koiso probably edges it by a nose), though we were fond of their Takah Sushi Special Roll, an ambitious concoction of shrimp, crab and ahi, plus other goodies all in the same, big-mouthed roll.
You don't have to go to a dedicated sushi restaurant for sushi. It seems like just about everywhere has at least one roll on the menu.
At Cane & Taro at Whaler's Village in Ka'anapali (owned by the same parent company as Sansei, DK), they pride themselves in their family-style meatloaf. But at the end of the menu, there are five specialty rolls, and we ordered nearly all of them, including a panko-crusted, crispy ahi roll, plus a couple of sashimi options.
In Wailea at Fairmont Kea Lani's poolside restaurant Ko, there is one roll on the menu, Oishi Sushi, which means "good sushi." We couldn't resist, and enjoyed a tempura-battered tuna to go along with our "Ahi on the rock" sashimi.
Wailea Golf Club opened up a newly modeled restaurant, Gannon's, A Pacific View Restaurant. While we opted for cooked entrees (a pork chop topped with pineapples), we haven't been able to turn down any roll with "tempura" in the description. So we ordered up an their ahi tempura roll fried on the outside and stuffed with with salmon, crab, pickled ginger and wasabi vinaigrette. It's a fitting cap after a round on the player-friendly Gold course or Emerald course, both overlooking the waters where a lot of this fish was probably caught.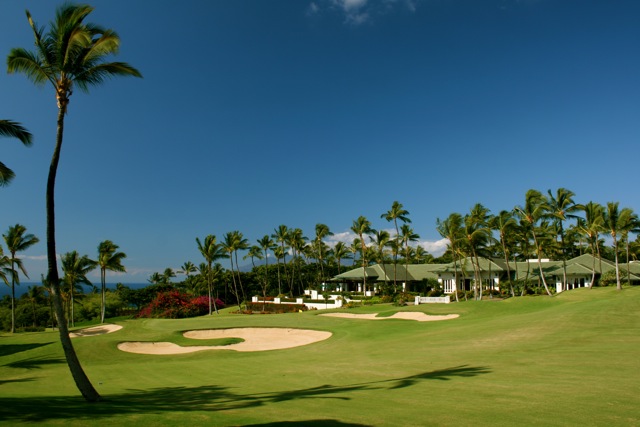 Gannon's A Pacific View Restaurant" overlooks the 18th hole of the Gold Course at Wailea Golf Club. Above, sushi chefs play to a packed out at Sansei in Kapalua
No feedback yet
Comment feed for this post
Leave a comment