Post-trip golf and travel bites from Australia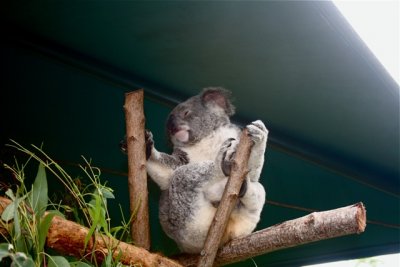 A few random notes on travel to Australia as I work through a little post-flight jet lag my first night back:
- Rarely does an American visit a country newer than their own, and Australia is shiny and new in most parts. Driving on the roadways is a breeze compared to Europe or the logic-defying roadways of southeast Asia's major cities. The most exotic part of the country for visitors is the animals, whether it's the Great Barrier Reef: 2300 kilometers of coral jellyfish, exotic birds and kangaroos.
- Queensland, like Indiana or Arizona, doesn't recognize Daylight Savings Time. People here say its because of the many farmers in the state who say their cows get disrupted on that schedule. The result is that during their summertime, it's light out by just after 5 a.m. I teed off before 7 a.m. at Hyatt Regency Coolum Golf Club (and plenty more were on the course before us) and finished before 11 a.m. It's nice actually, being able to play 18 holes and still have time to kill before lunch. A little like the chickens on the Hawaiian island of Kauai, the birds do their best to get you up at the crack of dawn, too.
- Australia's strong dollar may be good for a lot of residents in certain industries, but travel isn't one of them, as the country has taken a tourism hit from international visitors as the country becomes more expensive. For an American visitor, its sticker shock in a lot of places, especially dining in higher-end resorts or in the airports. Golf courses in Australia aren't all that pricy, but most meals and drinks could probably stand for a 30-40% appreciation in the US dollar to be considered comparable prices for Americans. For now, Australia feels pricier than the U.K.
- If you plan on traveling abroad in the near future and don't have a Google Gmail account, you should look into one, thanks to their new phone application that is free to call US and Canadian phone numbers from your email. I used it quite a bit while in Australia and the quality is as good as my phone back home. It beats Skype because the other user doesn't need a gmail username in order to call them free. With Skype (which has a great IPhone application), they charge pennies to call actual phone numbers.
- Aussie Talk radio is still bickering about the Australian Football League Grand Final here this past fall that led to a draw, and a rematch had to be staged a week later, causing all sorts of outrage. It'd be like the Super Bowl ending in regulation as a tie, playing the 15-minute OT period without a winner, and then ending the game and starting over the following week. Think the NFL would ever let that happen?
- The two golf courses I played on Queensland's mainland, Hyatt Regency Coolum Golf Club and Sanctuary Cove's Pines Course, have terrain and grass that is pretty similar to southeastern U.S. If there is one big difference, it's what the courses sound like. There are so many different bird calls, from hooting to crows and cackles, we just don't have back in North America. At certain points on the golf course, the sounds made me feel like I was in George Lucas' world of Endor.
- Domestic terminals in Australia still allow people without boarding passes through security. It reminds me of the good old times in America when family and friends could meet you at the gate without a ticket, back when a buck could get you something and a man would give up his seat for a woman.
Plenty more coming on golf travel in Queensland…
Photo: Koalas sleep almost all day long in Australia, daylight savings or not (Brandon Tucker/TravelGolf)
1 comment
Comment
from:
flights to australia
[Visitor]
flights to australia gives you cheap and best deals from UK.You can get 25% discount in this winter.flights to australia gives you travel insurance.
2010-11-27 @ 01:15
Comment feed for this post
Leave a comment