19th hole with a wild side: Visit the Australia Zoo after golf on the Sunshine Coast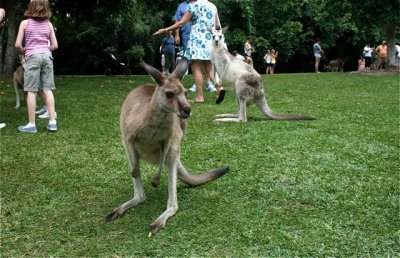 COOLUM, QUEENSLAND – Back in America, most of us knew of Steve Irwin as "The Croc Hunter," a wacky Aussie ranger with his "crikey!" catch phrase who always got insanely close to deadly animals.
A visit to the Australia Zoo on Queensland's Sunshine Coast, where Irwin lived and where his family still carries out his vision to make the world a better place for all animals, shows the serious side of his mission - with a wild side, of course.
This more laid-back area north of Brisbane is home to a collection of golf courses including the Hyatt Regency Coolum Golf Club, host of the Australian PGA Championship next month.
For the visitor, the Australia Zoo is more "hands-on" than any zoo or theme park I've seen in the U.S. Small lizards, dragons and birds roam free, and rangers walk around with little animals in their hands or on their shoulder. Irwin's motto was "touch, feel, feed, kiss, hug," and there are plenty of opportunities to do so, from snakes to elephants.
There is a field full of roaming kangaroos you can pet and feed, and Australia's adorable koalas tend to steal the show when they're not hiding high in the trees. Today I learned they are picky eaters, sleep 18 hours a day, and their sexual promiscuity is a big reason why their species is riddled with a disease comparable to AIDS and they could be extinct within five years. The Irwins hired the best koala doctor in Australia to see if they can be saved.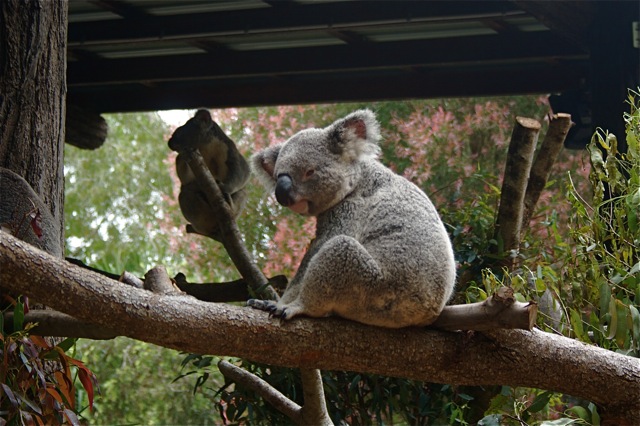 The zoo charges theme park-like admission at 58 dollars, but you get all these hands-on experiences included (even pony rides for the little ones), plus live shows are going on all the time. Guests can also pay a little more for V.I.P. "Caddies" who offer five-hour tours and know when all the feedings and shows are going on, or you can sign up for "encounters" that get you some face-to-face time with bengal tigers or other animals.
What's most remarkable is how the zoo has grown from Irwin's mother's small reptile park 40 years ago to what it is today. It continues to grow and has done so without any public funding, and the revenue is used to lead animal conservation efforts in Australia and help endangered animals like elephants and tigers all over the world. A new animal hospital across the parking lot was also recently dedicated to aid wounded animals close to home. I took a quick peak in there and saw a handful of ailing koalas being nursed back to health, one of whom had its left arm bandaged up after getting hit by a car, another's rib cage was badly injured from a dog attack. Also currently in care is a small koala who was brought to the hospital with 15 bullets inside him this week.
Before his death, Irwin bought up many acres of land around the zoo to grow it out over many years. I don't think many of us realized when watching him get insanely close to poisonous snakes and deadly crocs just how much of an entrepreneurial vision he had, and it's all focused on animals. There is a lot to love at the Australia Zoo, and a lot of love is needed from hundreds of employees and millions of yearly visitors to keep it up. If you're a sucker for photo ops with cuddly animals, stop by for the afternoon if you're golfing around Queensland's Sunshine Coast.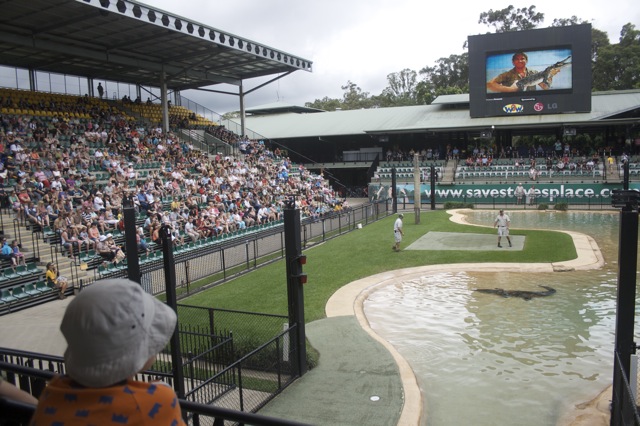 The "Crocoseum" is the main stage that hosts live shows during the day at the Australia Zoo.
1 comment
We are lucky to have Australia Zoo just down the road on the Sunshine Coast - it is a pity you were not here a month ago to experience our Hyatt whale watching package with Steve's Whale Encounters on "Whale One".

2010-11-08 @ 12:54
Comment feed for this post
Leave a comment