Win a chance to visit the pretty Great Barrier Reef and play with pretty boy Adam Scott in Australian PGA Pro-Am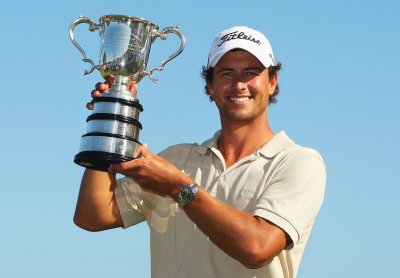 This is the last week you can enter Tourism Queensland and Springboard Vacation's Adam Scott vacation giveaway. A lucky winner and their equally lucky guest will get an all-expenses paid trip to Queensland for 13 nights for the Australian PGA Championship, plus many more on and off-course activities of their own.
Included in the trip is a round in the Australian PGA Championship Pro-Am at the Hyatt Regency Coolum, paired up with Scott, a native of Queensland. You and your guest will also get a personal golf lesson from the hometown stud and attend a VIP dinner during tournament week and have passes to all four rounds. Prior to tournament week, you'll explore Queensland's golf courses and natural wonders like the Great Barrier Reef, including two rounds at Sea Temple Golf Club.
All entries must be received by Sunday, October 31st. Entering takes about 30 seconds, visit www.golfwithAdamScott.com. To be eligible, you must be a U.S. Citizen and have a valid USGA handicap.
I'm off to Queensland next week for my first trip down under to explore a similar itinerary of golf, plus some exploration around the Great Barrier Reef and Hamilton Island. So stay tuned for dispatches…
Photo Credit: Cameron Spencer/Getty Images
1 comment
Comment
from: Rob Babcock [Visitor]
Just entered. Thanks for the heads up. You may already have this planned, but since you're down there you have got to get yourself on a plane to Tasmania (Launceston airport) and head over to Barnbougle Dunes. You will love it!
2010-10-27 @ 09:25
Comment feed for this post
Leave a comment