Ten ways to change the golf model by analyst Charlie Rymer hits some good points
Golf Channel analyst Charlie Rymer recently posted a blog on GolfChannel.com about ten ways we can change the golf model.
I admire his guts. Not every analyst would be willing to come out with ideas like making bigger holes and suggesting golf could learn from bowling. Rymer may be interested in visiting Germany's Fleesensee Resort's Coca-Cola Family course, home to big holes, it's the only course I've ever seen of it's kind.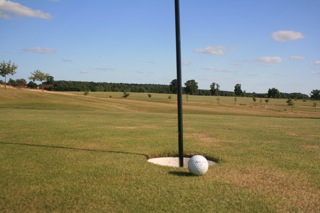 I play a lot of golf all over the world, and pay special attention to how golf can thrive in the future with both increased participants and also ensure courses can manage costs. I don't agree with everything Rymer has to say, but I especially like the following points:
3) Get the pros out from behind the counters. Golf can be intimidating and confusing. Pros should meet, greet and make golfers feel welcome. Let the grumpy rangers collect the cash. Quick tips on the range and advice on how to play the course should be the priority for pros. Who knows? This might even bring back pro shop customer loyalty and give those grumpy rangers more cash to collect. Golf pros don't need to be general managers. They need to be golf pros. Deal with the golfers, not the computers.
Course rangers are often retirees that are only in it for the free golf and balls they can find in the woods while on the course, and they make more contact with the golfers the pros much of the time. I'm almost never greeted by golf pros out on the range or the course unless I'm scheduled to meet with them in the first place. Why is that? Pros should be glad-handing their patrons like Vegas high-rollers.
4) Find ways to let seniors and juniors play 3-, 6-, and 12-hole loops walking. If regular play starts at 8 a.m., let juniors and seniors tee off the 12th or 16th tee at 8:30.
Shortened golf courses is something we've talked a lot about here at WorldGolf.com lately. Click here for my column on 12-hole golf courses.
9) Base handicaps on scores shot in competition and on designated medal play days. Illegitimate handicaps discourage many golfers from competing. The current system doesn't provide incentive for many golfers to take pride in their handicap.
I have a handicap that I haven't updated much this summer, and I'm about to play in a club competition this weekend. My handicap is woefully inaccurate and out of date, and it will prevent me from winning anything should I play well. The Royal & Ancient system only records competition rounds and that makes a lot of sense and takes the hassle out. Also, Americans have an obsession over stroke play, when team play is usually quicker and more fun.
4 comments
qcqwcqwc
2010-12-07 @ 22:46
Pay no attention to what the critics say... Remember, a statue has never been set up in honor of a critic!
2010-12-20 @ 00:38
Courtesy on one side only lasts not long.Creep before you walk.
2010-12-24 @ 22:29
Don't have too many irons in the fire.Don't make a mountain out of a molehill.
2010-12-29 @ 08:43
Comment feed for this post
Leave a comment