Golf in Wales post-Ryder Cup: Sunny side up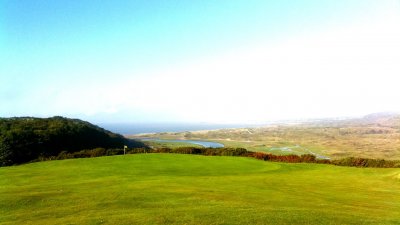 I laughed every time I heard this when I was at Celtic Manor Resort and waiting out rain delays in Cardiff for the Ryder Cup: "Well, Wales is one of the wettest parts of the U.K."
Huh?
That's like calling Louis Vuitton "the expensive store" on Rodeo Drive. It rains everywhere the U.K., just like it did at the Open Championship in St. Andrews. It will probably rain at Gleneagles in 2014. One columnist in the U.K. even suggested it's possible it will snow as long as dates stay in October.
Rain sure didn't put a wrinkle in my golf plans the Monday-thru-Thursday following the event, where sunshine ruled, even on days the forecast didn't call for it. I didn't bring my Canon camera to Royal Porthcawl Golf Club because rain was predicted, and what a mistake that was. I missed out on some great photos and was stuck taking mediocre iPhone pics instead.
I've been to Wales three times now, and "rain check" hasn't been in the vocabulary - at least not when I have a tee time. Click here for a feature on Wales' southern links, the real big winners of Ryder Cup 2010.
I think Wales is a victim of a little rookie hazing with all this silly weather talk. It's hard to believe the Belfry or K Club or anywhere else would have fared any better than Celtic Manor given the rainfall.
We've published some articles this week from my post-Ryder Cup trip, including a few photo galleries that show the sun really does shine in Wales. Click here for Southerndown Golf Club photos, one of the more unique links plays I've seen anywhere in Great Britain or Ireland. And I never run out of things to write about with Pennard Golf Club, one of the rarest kind of raw, spectacular links courses anywhere. Click here for a Pennard course review and photo gallery.
We played Pyle & Kenfig the Monday the Ryder Cup wrapped up and were treated to sunny, calm skies. Here are photos from the course on that day.