The golf swing is starting to make a little more sense with ZenoLink
As long as I've played the game of golf, I've had a severely strong left-hand grip (I can see four knuckles clearly) and a pretty significant knee slide on my follow-through.
I've known this going on twenty years now, and have never figured out how to change it. Whenever I try and weaken my left hand, my ball goes so far right it goes off the range, so I've kept my current grip, which can lead to a lot of chunked irons and some lower back pain.
A month ago when I was in Michigan at the Crystal Mountain Resort, I was introduced to Brad Dean and Zenolink (www.ZenoLink.com). Dean is the Director of Instruction at one of "America's Top 25 Golf Schools" rated by Golf Magazine, and he works with a lot of aspiring junior players with scholarship and tour aspirations. He was introduced to the Zenolink system three years ago and now swears by it. He's not alone, teaching pros like David Leadbetter, Jim McLean and Sean Foley have also put their students through the analysis.
I'll have more on the specifics of how Zenolink works in a future post, but as a mid-handicapper, I thought I'd share my results with the system thus far.
At Crystal Mountain, I had two swings with a six-iron videotaped by Dean, which was then sent over email to Chris Welch in New York. Welch is not a golf instructor, but he analyzes body motion in many sports, and uses his Zenolink system to maximize body efficiency, whether it's in baseball or cycling.
The following day, he sent me back a video analysis with his feedback on what he saw in my body during the swing scientifically, pointing out what seemed to be working and what wasn't maximized compared to a tour pro's swing - and gave me three exercises to work on, which included building my core muscles stronger.
On the video, Welch sounded more like a physics professor than a golf instructor, which is where Dean comes in. He helps the student understand what it all means and how to make the necessary changes. Talking with Dean, a light seemed to finally go off in my head as to why my swing didn't work with a better grip, and it was time to change a few things. I never knew how much my grip was related to my inability to twist my hips properly to the impact position until now.
I've been to the driving range just four times since my Zenolink analysis, without the aid of an instructor, and I'm already getting encouraging results. I'm most happy, however, with the fact my posture at impact and follow-through is better, and my impact position (pictured below) is also reducing the number of heavy shots.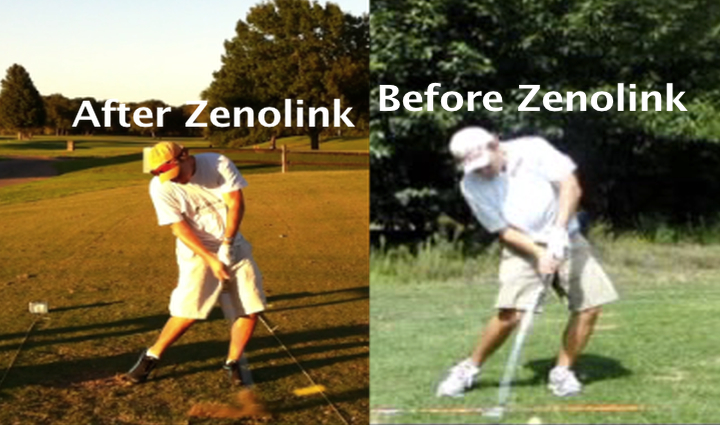 At impact, I appear to have a little more hip turn, my back is less arched and my left arm is straighter, while my head doesn't dip as much. The shots I hit well have a great ball flight, but the bad shots are sky balls to the right. I'm confident that after a few more large buckets, my swing should become more natural and my misses will be better.
I'm not looking for lower scores necessarily, just a stress-free swing, but Welch assured me those two things go hand-in-hand anyway. The real exam will be next week when I see if I can trust my new grip and hip action out on the links courses of Wales after the Ryder Cup.
Feedback awaiting moderation
This post has 1 feedback awaiting moderation...
Comment feed for this post
Leave a comment