New Michigan public golf course rankings: some shanks and solids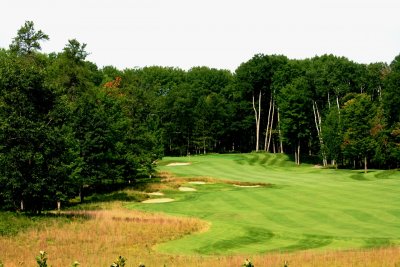 Fresh off another golf trip to northern Michigan, I've been paying special attention to how the courses fare in Golf Magazine's latest 2010 public state rankings. Click here for their Top 20 public golf courses in Michigan.
One day I'll publish my own Best Of list for Michigan. But for now, here are a few immediate observations from the new rankings.
- The Kingsley Club near Traverse City should be on the list. It's private, but you can play it with a phone call - so for now it sits in no man's land between privates and publics. I go back and forth deciding whether or not it's better than Mike Devries' other similar design, Greywalls - a definite Top 5 in Michigan. They're both similar raw, dramatic throwback plays.
Similarly, True North Golf Club is another private club with plenty of public access that is well deserving of a Top 20, and probably Top 10 nod.
- At No. 9, the new Harbor Shores Golf Club is a recipient of a little opening year hype. Having attended the course for the grand opening with Jack Nicklaus, I think it's a fine reclamation project on a former garbage dump, but there are easily 20 courses in Michigan that are better plays. I sure wouldn't put it higher than Pilgrim's Run, one of the great local-adored, value courses in the state.
- I'm still trying to figure out what's the big deal with Eagle Eye. It's nice, but to be in the Top 10 (and $80 in East Lansing), a course has to be special, and I like Michigan State's nearby Forest Akers West more - and it's half the cost.
- Bay Harbor and Arcadia Bluffs, the state's two golf courses that overlook Lake Michigan, both check in as No. 1 and No.2, making for an obvious "Lake Effect" with raters. Both are wonderful plays, but putting them at the top undermines the ratings process in two ways:
- It means a golf course has earned it's rating once the developer acquires the land and is willing to put in the resources to build a great course, and it's up to the course architect to simply not screw it up.
- Raters are supposed to be a bit more discerning and educated with their tastes, but they've chalked up the two best courses based primarily on views/location. Tullymore and Greywalls are superior course designs in many ways. Tullymore was built efficiently by Jim Engh (less than $3 million) with great hole variety, and Greywalls was done both boldly and as natural as possible - both of which should be applauded and encouraged in today's golf business.
Photo: Black Lake Golf Club in Onaway, which made Michigan's Top 10 (credit Brandon Tucker/TravelGolf)
No feedback yet
Comment feed for this post
Comments are closed for this post.