Two sides to Jones design: See how RTJ Jr.'s daughter does glass art at Tacoma's Hotel Murano during U.S. Amateur week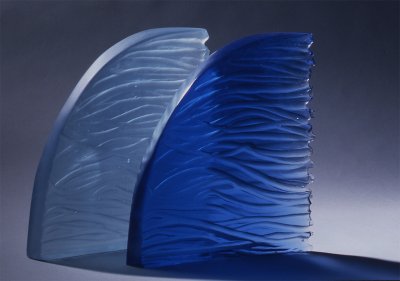 Robert Trent Jones Jr., designer of the new Chamber's Bay in Washington isn't the only one in the family who will be displaying his works U.S. Amateur weekend. His daughter, Taliaferro, is a glass artist, and will be exhibiting at Hotel Murano from August 21st-August 30th in Tacoma, coinciding with U.S. Amateur week (Aug. 23-29th).
Chamber's Bay sits overlooking the Puget Sound, with spectacular views at every turn. Taliaferro's works have a special focus on water as well. Said Taliaferro of her show's concept:
"Like our blue planet, our bodies are 70% water, yet we still have a need to ground ourselves; the paradox of standing still while always flowing. In many ways we are between states, part spirit and part matter, part liquid and part solid."
Hotel Murano is part of the Provenance Hotel group, which has a small collection of fashionable hotels in select cities, including Hotel Max up the road in Seattle. Each of their five properties have a different theme, and Murano's features a wealth of glass artworks from international artists in public areas and guest rooms.
Each Provenance property I've visited has been unique in design (from Portland's Hotel Lucia, themed with photography to Hotel Deluxe, set in a 1950s, Hollywood-style style decor), but they're all also very comfortable. One of my favorite aspects of their properties is the "pillow menu" - a selection of seven different types and firmness to choose from. The Murano also offers golf packages to Chamber's Bay, and you can add on a treatment at their Savi Spa as well.
Downtown Tacoma is much smaller than Seattle, but it's very close to Chamber's Bay and is enjoying a revival in it's city center thanks to new properties like Murano, within walking distance of a collection of shops, bars and restaurants. The area is certainly worth snooping around a little bit before or after watching U.S. Amateur action if you're looking for something a little more compact than Seattle.
I played Chamber's Bay almost exactly a year ago, click here for photos and here for my column on the golf course. It's also one of our most user-rated golf courses at WorldGolf.com, so click here to see what players had to say or to leave your own two cents.
No feedback yet
Comment feed for this post
Comments are closed for this post.