Lake Michigan's Arcadia Bluffs a fine substitute when the pros tie up Whistling Straits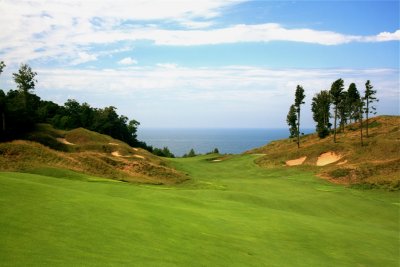 ARCADIA, Mich. – It's about the closest thing on the planet to the Straits course at Whistling Straits: Arcadia Bluffs Golf Club in northern Michigan. It's 60 miles across Lake Michigan from Whistling Straits, and boasts the same kind of championship-caliber, links-inspired golf.
While the pros geared up for weekend play at the PGA Championship across the lake, I teed it up here Saturday on a morning that turned into a real beauty. Staff tell me the course still regularly stacks its tee sheet to the tune of about 200 golfers daily, but apparently the pro shop received a lot of cancellations last night, possibly watching too much PGA Championship coverage discussing the possibility of a wet morning on the other side of the lake.
They missed out. Early clouds gave way to a perfect, calm, sunny back nine. Our caddie couldn't help but point out how much quieter it was than normal with fewer groups hootin' and hollerin' around the wide open fescue dunes.
Until today, Arcadia was one of the last "big name" course I haven't seen in northern Michigan, and I was eager to see how it matches up, not only to Michigan's best courses, but other similar U.S. courses like Whistling Straits or Bandon Dunes. I'll have more on how Arcadia fares versus Michigan's top courses in a later post.
Like Bandon Dunes and Pacific Dunes, Arcadia sits on bluffs high above the water, but that's about it as far as similarities between the two. Compared to some of the modern, links-inspired courses that I've seen in the U.S. (and even Kingsbarns and the Castle Course in St. Andrews), I actually found Arcadia most similar to Chambers Bay on the Puget Sound, which will host the U.S. Amateur later in August and also the 2015 U.S. Open. On both, the land gradually slopes down towards the water, creating an amphitheater effect that reveals fabulous views from high tee box and green sites. Holes tend to head uphill away from the coast, and back downhill towards the water. The way the shapers built dunes to frame holes are very close, though Arcadia opts for the more Scottish-style, sod-walled bunkers while Chambers' don't have defined edges.
The one major difference between Chamber's Bay and Arcadia Bluffs is the turf: Chambers has wall-to-wall fescue, while Arcadia has slick bentgrass fairways and greens. The greens at Arcadia do the best to draw your eyes off the lake and back to the matter at hand. They're massive and lightning fast. I love the shaping to them, and having teed off at 8 am this morning, they rolled about as pure as you possibly could putt - and I managed to roll in a few bombs - as well as a couple chip shots that rolled off the green.
Right now I'd give my personal edge to Arcadia over Chamber's Bay as far as which I'd play, with the real dealbreaker being the greens at Arcadia. Give Chambers a few more years to grow in their fescue and get the ground firmer and faster, and I could change my mind, because Chamber's Bay has a little better hole variety, including short, drivable par 4s - a must for any golf course, right?
As far as how it stacks up against Whistling Straits…The Straits course has a few more dramatic holes - but I'd rather play Arcadia Bluffs twice for the same price as it costs for one round & caddie at the Straits - the dent in the wallet is about the same.
I'm writing this on the ground next to check-in at Grand Rapids' Gerald Ford Airport, which means it's time to leave Michigan once again. Stay tuned for plenty more from a jam-packed golf itinerary.
1 comment
Very useful site. I appreciate your effort, keep up all the work.
2010-12-23 @ 13:24
Comment feed for this post
Leave a comment