24 hours in Sun Valley, Idaho: Bikes, golf and Garth Brooks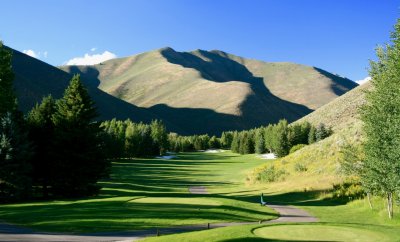 SUN VALLEY, Idaho – Sun Valley doesn't seem to be one of those "lounge by the pool" summer destinations. The weather is sunny and dry, and the temperatures are pleasant enough to stay active all day. Just about everybody around the resort's hike and bike trails boasts a Bally's Total Fitness commercial-type bod.
My last 24 hours here serves as a pretty good snapshot of a day as a Sun Valley vacationer. Last night, we attended a Garth Brooks concert benefit for the Sun Valley Summer Symphony series. Brooks has been retired for awhile, but apparently Steve Wynn, who has a house in Sun Valley, has a way of talking folks into doing little favors. So Brooks performed two hours at the amphitheater, one of which was with the symphony, to an intimate audience (relatively speaking for Brooks) of about 6,000 fans. Brooks' event was the biggest act the resort has hosted, possibly ever, but summertime brings live music to Sun Valley often. You can even catch Steve Martin and the Steep Canyon Rangers tomorrow night at River Run Plaza if you're around (I'll be on a flight home).
This morning, I decided to explore the area with a bike ride. You can take a gondola to the top of Bald Mountain and make your way down about 4000 feet (if you have better insurance than me), but I chose to rent a road bike and explore the Wood River Trail system, featuring miles of paved paths with very few intersections or hills and no motor traffic. Before I knew it, I had found myself in Hailey about 15 miles south and two hours away from my afternoon tee time. I stopped into a gas station, guzzled a Gatorade G2 and headed back towards the resort.
We teed it up on Sun Valley's Trail Creek course (pictured above) at twilight while nearby orchestra music from the festival, with special guest violinist Itzach Perlman, filled the mountain air. After an 18th hole birdie, the night was capped with a desert worthy of replenishing the calories I shed during the day: a warm chocolate chip cookie topped with a scoop of vanilla ice cream and whipped cream at Bald Mountain Pizza next to my room at the Sun Valley Inn, where I am now and would make a hefty wager I'll sleep like a (sunburnt) rock.
I'd like to thank The Kneadery restaurant in Ketchum for getting me through the day. Eight hours after my breakfast there, I wasn't even that hungry by the time we'd walked off the 18th green. I ordered the Mountain Man breakfast: a thick waffle, eggs, bacon, sausage and a generous helping of hash browns - all for about $11 - and a big pitcher of water to chug before heading out the door and seeking out my bike in a sea of a dozen.
Sun Valley is a historic destination, dating back to the 1930s, but there's a lot of new happenings here to talk about, including a new 9-hole golf course, White Clouds, so stay tuned for more.
[video:youtube:zWk9nzOKHyE]
1 comment
Comment
from: Susanne [Visitor]
Steve Wynn is not a Boise resident he lives in Las Vegas and has a home here and been coming here for years. He is a huge supporter to Sun Valley as well as Earl Holding, Edgar Bronfman and others.
2010-08-03 @ 09:41
Comment feed for this post
Comments are closed for this post.