Play golf, drink cheap and hit the race track in upstate New York's Saratoga Springs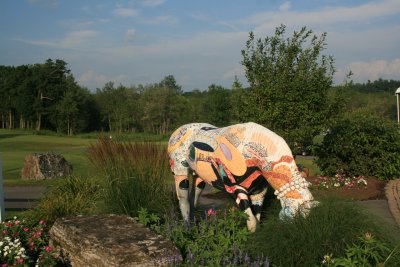 You'd think they were the town's version of Buddha. Horse tributes are everywhere in Saratoga Springs, from statues downtown and at golf courses, to paintings in our hotel room and in bars and restaurants. It's easy to figure out the area's lifeline, and it's on four legs.
Last Friday, the 40-day summer series began at Saratoga Springs Race Course. Until September 6th, you can head north and play some quiet and scenic upstate New York golf - and then bet on the ponies at the track.
I recently spent two days in Saratoga Springs. Our stay was in between Skidmore College classes and horse racing season, so the town was a little sleepier than it is now. The highlight of downtown is historic Caroline Street off the main drag, where you can find a handful of bars and restaurants. We stopped into the Tin & Lint, a little hole in the wall basement pub and found ourselves in the middle of $1 Molson beer night. We played Golden Tee HD and virtual Shuffleboard most of the night, which hardly put a dent in our wallets. Before heading to the pool table, a wooden board was placed on top and a beer pong tournament broke out and an army of college kids surrounded it. Right before I thought my brother and I - both well removed from the peak of our college drinking game days - might drum up a little magic and show these kids how it's done, I watched one team hit six straight cups. We ducked out of there quick.
For golf in the area, I visited two, very different options worth playing. Nearby Saratoga National is a Roger Rulewich-designed course that has the look of a course that was built to host top area events, with a difficult design and top clubhouse and service amenities. Upon arrival, bag boys ask to change out your spikes with their compliments, and there are full locker room and practice facilities - not to mention great course conditions. Next to me on the driving range was the Tuna himself, Bill Parcells banging balls and muttering after many shots. I decided I'd leave him be.
Saratoga National is a solid upscale play and near downtown, but about 40 minutes north, The Sagamore presents a historic and secluded Donald Ross course from 1928. If you like the classics, maintained to an upscale resort standard with lightning-quick greens, this will get your motor running. Play 18 holes here and then head to the track, followed by dinner in the very visitor-friendly downtown of Saratoga Springs.
We didn't get a chance to hit the race track, so we scratched our gambling itch by playing matches for $2 scratch-offs all week.
For race schedules, check out SaratogaRaceTrack.com. For golf, visit the New York Golf Trail at NYGolfTrail.com, which offers discounted golf and lodging packages to Saratoga and elsewhere in upstate New York, including Cooperstown and Lake Placid.
1 comment
Events in the past may be roughly divided into those which probably never happened and those which do not matter.
2010-11-25 @ 04:27
This post has 2 feedbacks awaiting moderation...
Comment feed for this post
Leave a comment