Sneak peek at Predator Ridge Golf Resort's new Ridge course in the Okanagan Valley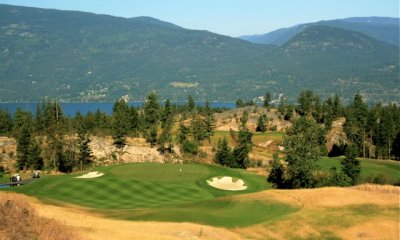 VERNON, British Columbia – I can count all the brand new golf course openings I'll be visiting on one hand this year. There aren't many.
But I did visit one this week: The new Ridge course at Predator Ridge in British Columbia's golf-loaded Okanagan Valley. At first glance, this sunny and dry region on the western side of the Canadian Rockies reminds me a little bit of Bend, Oregon - only the Canadians seem to have a little more fiscal restraint than us Yanks, as golf course real estate growth in the Okanagan has been steady, not boom-and-bust. In Bend, there are loads of new golf course communities, but a lot of uncertainty as to how many will survive the foreclosure fallout.
The original Predator course at Predator Ridge is one of the Okanagan Valley's highest-profile golf courses, hosting a lot of professional events including a recent TELUS Skins game in 2008 that hosted the likes of Camilo Villegas and Greg Norman. After opening in 1991, the course gained notoriety for being one of the toughest courses on the western side of Canada. The new Ridge course, a Doug Carrick design, has brought back "player-friendly" in a big way. The course is full of elevated tee shots and funneled fairways. I hit three drives I thought were goners, and they somehow found fairway. The greens are much less severe than the Predator, but they were quicker and firmer, so they're no cakewalk.
The golf course is loads of fun, and a bit prettier than the Predator, winding through forest and has a few distant lake views. I've got a full feature on the resort coming out soon, plus more photos and even a spotlight on the area's new resort, Sparkling Hill, which delivers the ultimate in Euro-wellness with a must-see-to-believe spa.
If you've played the new Ridge course at Predator Ridge, we want to hear your thoughts. Leave a course review here.
On a side note, this is now the second summer in a row I've seen Detroit Red Wings GM Ken Holland on a golf trip. I saw him last year at Bandon Dunes, wolfing down a quick lunch and racing out to the first tee for what I'm guessing was his second 18 of the day. This time, he was at Predator Ridge, driving by me in a golf cart on his cell phone (hopefully finalizing the deal with Mike Modano) wearing his Bandon Dunes hat. Small world. If I see him in another golf destination I'm going to have to give him an offer to blog for us. But it's no coincidence, a lot of NHL players live in the Okanagan, partially because hockey players love golf - and summertime here is one of Canada's top spots to tee it up.
Photo by Brandon Tucker/TravelGolf
3 comments
You have remarked very interesting points ! ps decent web site .
2010-12-28 @ 23:55
Comment
from:
cheap mary poppins tickets
[Visitor]
Pretty insightful publish. Never believed that it was this simple after all. I had spent a beneficial deal of my time looking for someone to explain this topic clearly and you're the only 1 that ever did that.
2011-01-05 @ 21:58
Comment feed for this post
Leave a comment