Just how good is U.S. Women's Open host Oakmont Country Club?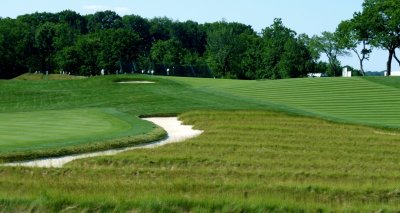 Despite some predictions that the ladies wouldn't make it around Oakmont Country Club in one piece, it appears first round U.S. Women's Open scores are right about where they usually are in an Open staged by the USGA - leaders hover around even par.
But for regular golfers like us, the question about Oakmont is this: if the club offered some limited tee times (or you had a member hookup), would it be worth traveling to play?
I've played roughly 400 golf courses in my life thus far, and Oakmont is in the top 50 for sure, and probably top 25. Getting any higher than that is tough because I've played too many incredible links golf courses in Ireland and the U.K.
Oakmont is certainly not at the head of my class domestically, despite rankings usually in America's top 10 in most magazines panels. It has some great holes, like the third, which not only has the church pew bunkers but an elevated green that demands perfection. I also appreciate a course with short par 4s, and Oakmont has two on the back nine alone.
I think the golf course design is solid, but what bugs me about Oakmont is that it warrants merit for being tough, when really it's set up to the limits (and in some ways beyond) in order to make it such. During my round there, I hit a perfectly struck sand wedge that trampolined about 50 feet after hitting a firm spot on the 12th green. And shots that find the rough by two feet usually require a hack out of about 20 yards.
Click here for my column on Oakmont for regular golfers.
The property Oakmont sits on is a nice, rolling parcel of land that sits on relative high ground near Pittsburgh, and it's almost completely gutted of trees. I know a lot of writers and design critics applauded Oakmont for their secretive tree-removal process between the 1994 and 2007 Open that took out practically all of them. I'm all for a restoration to the way a golf course was intended, and Oakmont was built by H.C. Fownes to play and look like a links.
But, not to sound like a hippy or anything, I like trees on my golf course, especially in the humid summertime when all I want is a little shade to hide under time-to-time. And a few strategically-placed trees or tight dogleg holes that require a player to shape a shot, like Colonial C.C. in Forth Worth, never hurts in my opinion - and is a better way to make a course difficult than super firm conditions that are near impossible to uphold from a maintenance perspective.
A good course to compare Oakmont to is Pinehurst No. 2. Both were built in the same era on relatively similar pieces of property. Pinehurst has more pines but they essentially never come into play off the tee. If I had a choice of rounds, I'd probably opt for No. 2 by a nose over Oakmont, partly because of the green complexes are so tough that if you can conquer them, your sense of accomplishment is massive. Additionally, the whole golf atmosphere at Pinehurst is virtually unbeatable in the U.S. - and that's a big part of golf travel.
And Pinehurst has trees. Lots of 'em. Did I mention I like trees?
Photo credit: Brandon Tucker/TravelGolf
9 comments
1. Pinehurst and Oakmont are not from the same era. Oakmont was finished in 1903, while Donald Ross tinkered with Pinehurst #2 (originally a sand greens course, which Oakmont never was) into the late 1940s.

2. Overabundance of trees makes growing grass very difficult. The tree thinning process was not for aesthetics, but for cost and ecological impact.

3. I like that you address average golfers...average golfers from slow-greens muni wouldn't know what to do with Oakmont's 14 stimped putting surfaces. It probably isn't the best place for the average Lebron to take his game.
2010-07-08 @ 16:04
Paula Creamer wins the U.S. Open. If her thumb holds up, there's your rising LPGA star. Her critics can no longer say she's the best to never win a major. Great going Paula, showing the right way to get to the elite of the golf world is through hard work, toughness, and making use of talent -- and not through hype.
2010-07-12 @ 02:27
Comment
from: Brian [Visitor]
I find your assessment of Oakmont a tad off. Its conditioning is one of the top in the country. It is not an easy course, and it was made this way because Fownes did not think there was a difficult course in Pittsburgh. I think this course is the ultimate golf test. You have to use all of your clubs, and most importantly your putter has to be on. If you are an amatuer and cannot handle it, stick to your little public courses.
2010-08-02 @ 19:49
Way to focus and straight to your point, i love it. Keep up the work people. Dont let anyone stop us bloggers.
2010-12-01 @ 13:55
english site · spanish · french. afa. Privacy Statement.
2010-12-21 @ 12:38
All things are difficult before they are easy.
2010-12-26 @ 14:46
By the way otherwise love your site as someone in the wine country looking for somewhere else to go in the Bay Area, it is perfect Thanks
2011-01-08 @ 14:09
As for timing to Tahoe, the snow should mostly be gone by June. Expect mosquitoes till early July at Tahoe. May will be cheaper, especially before Memorial Day; this is shoulder season at Tahoe.
2011-01-08 @ 19:26
Comment
from: Phia Charles [Visitor]
I just wish the women U.S. open would get more exposure as the men U.S. open http://www.gatewayvillas.org
2012-05-10 @ 19:41
Comment feed for this post
Leave a comment