Ten waking hours in Reno - and golf at Montreux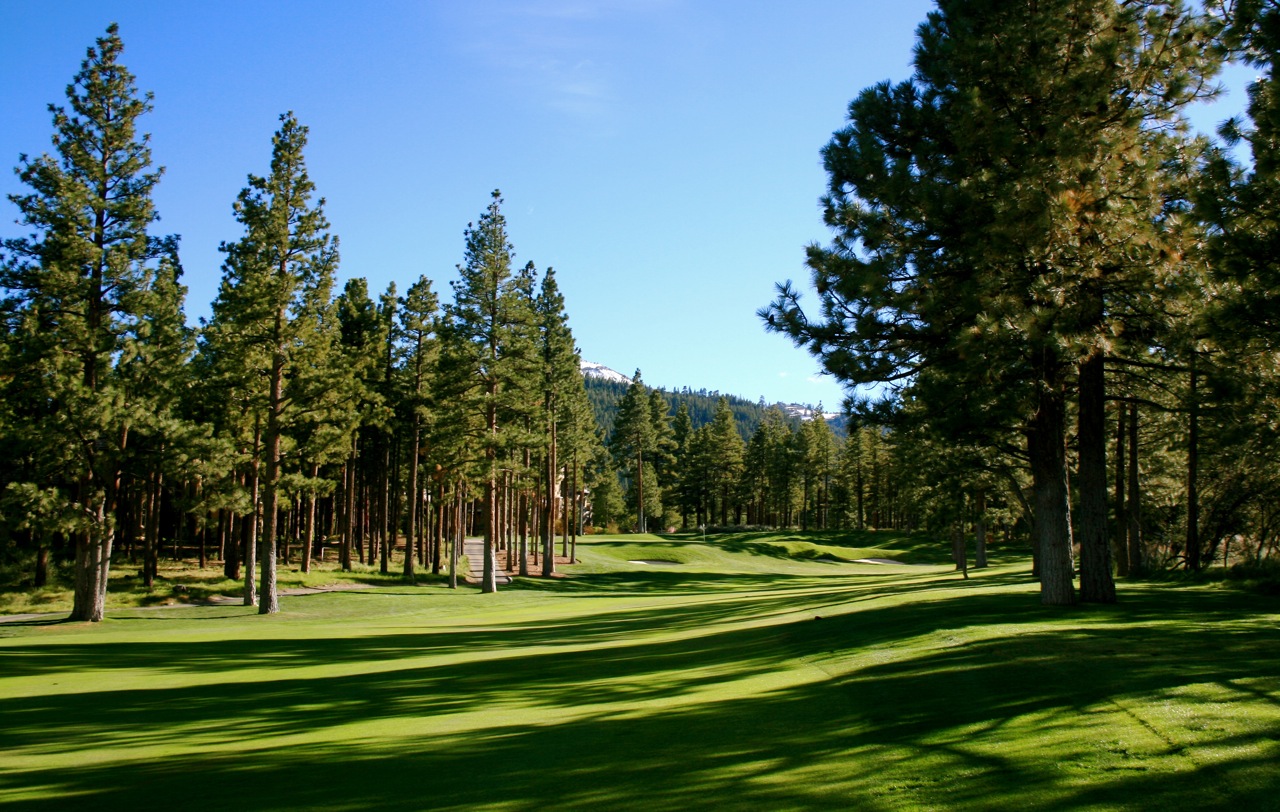 MINDEN, Nev. – I never thought I'd dateline "MINDEN, Nev." in my career, but you never know where the quest to play golf courses around the world takes you. Currently I find myself in this tiny Carson Valley village near barely-larger Gardnerville on Highway 395. There seems to be little more than a couple fast-food joints, a new Holiday Inn Express (where I am now) and the Carson Valley Inn and Casino, which I stopped into tonight around midnight and you could hear a pin drop. For golf, it's 15 minutes from Genoa Lakes Golf Resort and about a half hour from Dayton Valley Golf Club.
I'm in this sleepy valley village because it's a gateway to the High Sierras and Lake Tahoe on the other side on Highway 88, less than 10 miles as the crow flies to my next point of attack, Edgewood Tahoe Golf Course. I'm currently "Golfing the High Sierras" - a media junket that is a weeklong golfing assault around Reno, Lake Tahoe and everywhere in between. At this point, I feel more qualified to give you a review of my Chevy Impala than any kind of golf or travel dispatches, though I did finally get to catch a glimpse of Reno on my arrival day.
The closest I can compare Reno to is perhaps some parts of downtown Las Vegas - it has that older, time-warp vibe to it. Interestingly enough, the newest (and tallest) casino on the main drag is the Silver Legacy, and it opened in 1995. Compare that to what Las Vegas has done in the last 15 years, and you begin to get a sense that perhaps Reno could use a booster shot. The hotel is home to a restaurant, Sterling's Steakhouse & Seafood, that does fine dining well, even if it doesn't have the chic vibe of the Las Vegas Strip's fashionable steakhouses with one-syllable names.
I did get a peak at Reno's luxury living side at private Montreux Golf & Country Club. Host of the Reno Tahoe Open on the PGA Tour, is a fantastic Nicklaus course that heads up from the desert floor into the foothills, where tall pines emerge and line most fairways. Not only is it pretty, with a strong collection of postcard par 3s, it's a fun play when played from the right tee box - I wouldn't dare tee it up at the 7,400 set when some fairways are ultra-tight, especially when afternoon winds can jump up a bit.
Reno intrigues me if only for the potential it could have. It's summertime positives are obvious, with average highs in July and August 90-91 degrees, about 10-12 cooler than what you'd find in Las Vegas. While such wonders like the Grand Canyon are within a drive of Las Vegas, in Reno you're just a short drive to Lake Tahoe and a total environment shift. I'll be swinging back through Reno after spending a few days in the mountains and would like to see what kind of scene it has on the weekends, and hope to learn more about what the destination has to offer and possibly what could be on the horizon for the future.
Stay tuned for more on golf around the High Sierras …
Photo credit: Montreux Golf & Country Club - Brandon Tucker/TravelGolf
2 comments
Comment
from: Mike C [Visitor]
What a ridiculous post. When you go to Columbus OH do you whine about how it's not enough like Cincinnati? When you're in Orlando do you complain that it could use some more pastels so it could be more like Miami? This is absurd. Reno is a city all to itself with a multitude of benefits that are obviously beyond the ken of Brandon Tucker. And Reno has absolutely no desire to be like Las Vegas. If you want Vegas, go to Vegas. Oh and by the way, Reno is as close to the Napa Valley as Vegas is to the Grand Canyon.
2010-06-08 @ 13:26
Comment
from: Gordon Parks [Visitor]
Give me Edgewood Tahoe over Lost Wages anyday. I love going to Reno, then to the lake and then north into California. Beautiful. Has Las Vegas beat by miles.
2010-06-08 @ 15:19
Comment feed for this post
Leave a comment