Sneak peek at the new Waldorf Astoria Golf Club in Orlando near Disney World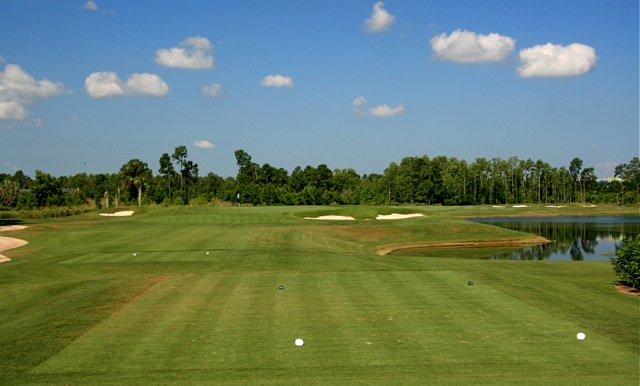 ORLANDO, Fla. – You wouldn't think a golf-saturated city like Orlando would be a prime market for a brand new facility. But alas, Waldorf Astoria Golf Club opened towards the end of 2009 along with the hotel in the shadows of Disney World in Bonnet Creek.
The last two days, I've had the chance to stay and play at the Waldorf, the famous New York luxury brand that is now taking on Orlando.
The course is a Rees Jones design, but Donald Ross's name was tossed around more by rangers than Jones during my time there (I wonder if Mr. Jones knows about this…). The style of the course is indeed very classical and reminiscent of Pinehurst and the Sandhills, with gently-rolling land and smallish greens that are usually raised, heavily guarded and slope off heavily into bunkers or water.
The course features five tees playing up to 7,100 yards, and features a traditional routing that is very easy to walk (well, maybe not in the summertime). No housing development lines any fairway, a central Florida rarity, and the only buildings you see during the round are the three Bonnet Creek hotels. Considering the classical, walker-friendly routing of the course along with the two new hotel facilities next door, this place is ripe to host some kind of high-profile golf event in the near future.
Between the hotel next door and the golf club, Waldorf's service is on a platinum level, offering a genuine "club-for-a-day" feel with five-star hotel amenities that are quiet and spacious. My golf spikes were changed out and cleaned in minutes without me even asking, cold towels and water are offered frequently. The driving range and practice facility is large but there are only about eight spots on the tee set up. It's an exclusive place, which also means pace of play is fast, and that's a good thing when it's heading into June in Florida.
Waldorf Astoria is here to make a splash as one of the most upscale, luxurious options in Orange County, and I applaud them for not making their course a flashy, costly monstrosity full waterfalls and unnecessary aesthetic and design features that you might expect in a tourist town like Orlando. Perhaps it's a message that upscale golf can be done tastefully and minimistically if you provide outstanding service and facilities, as well as fast and firm conditioning golfers love hitting off of.
The course is open to the general public, though guests of the Bonnet Creek Waldorf Astoria and next door Hilton receive special playing privileges and golf-package rates. A brief look at holiday weekend morning rates on OrlandoGolf.com show it's about $170 per player currently, while weekday is about $125.
Stay tuned for more on the Waldorf Astoria Orlando as well as the next door Hilton at Bonnet Creek, or click here for more Waldorf Astoria photos.
No feedback yet
Comment feed for this post
Comments are closed for this post.