'Most photographed hole west of the Mississippi' at Tucson's Ventana Canyon Mountain course: just doing my part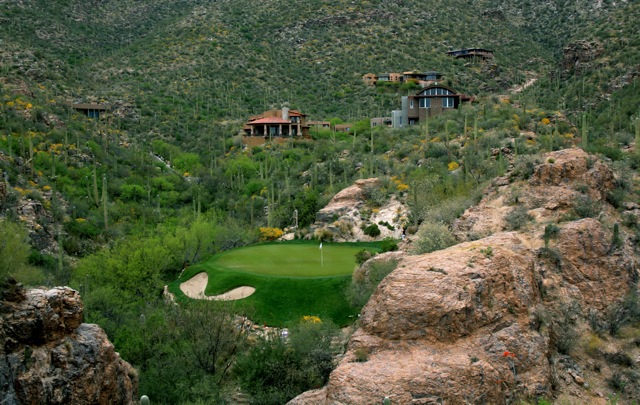 TUCSON, Ariz. - I'm not sure who the official record-keeper of "most photographed holes west of the Mississippi" is. But for the record, I took eleven photos from the tee box of the Ventana Canyon Mountain course's famous par-3 3rd hole.
For years, it's labeled itself as the "Most photographed holes west of the Mississippi." I've tried brainstorming a worthy contender of the title. Pacific Dunes' oceanfront 4th hole comes to mind. Pebble Beach's par-3 7th hole is another, though that's mostly from golfers and not professional photographers, who usually need a special permission from the resort just to shoot Pebble. TPC Scottsdale's 16th hole may be a contender but only during Waste Management Phoenix Open tournament week: the hole isn't as photo-worthy when 20,000 drunks aren't surrounding it.
I wasn't all that happy with my photos at Ventana Canyon's famous 3rd since there was a bit of cloud cover at the time (the first and only day of clouds my whole trip in Tucson) combined with playing the hole in mid-day washout light conditions. I'd love to just hang out at the tee box all day from sunrise to sunset and wait for the perfect light, because the visual is quite incredible. In the last year I've seen few par 3s that can compare, though I'd put San Antonio's Cordillera Ranch's waterfall par-3 16th hole up there in the mix (though is unfortunately private).
As much as I'm not crazy about my photos from the 3rd tee, I'm infinitely more dissatisfied about my tee shot on the hole: I gagged it. It's a delicate shot of just about 90 yards or so to a small green with plenty of visual distraction, and I chunked one into the rock wall on the right. Not only is the target a small one with plenty of visual distraction, the tee box is so small your group members are all standing right next to you, which puts even more sweat on your palms.
If I was a new member at Ventana Canyon, I'd sneak a small bucket or range balls onto the 3rd tee box one morning and unload it onto the green just to find a surefire swing that will hit the green every time so I can erase all demons immediately.
I've got plenty more to say about Tucson, desert golf and Ventana Canyon, plus some photos to post as well, so stay tuned…
Photo credit: Brandon Tucker/TravelGolf
4 comments
Comment
from:
Larry Berle
[Visitor]
That is a wonderful photo, Brandon. You may be a better photographer than you think.

I have always been told the most photographed hole in the world is #16 at Cypress Pt. and being west of the Mississippi that would qualify it as the most in the west too
2010-04-19 @ 05:29
Comment
from: Golf Goddess [Visitor]
Gorgeous, Mr. Tucker. Might your tee shot have been better if you had remembered to put the camera down, first? LOL
2010-04-21 @ 10:01
This web site is really a walk-through for all of the info you wanted about this and didn?t know who to ask. Glimpse here, and you?ll definitely discover it.
2011-01-07 @ 06:24
Have you ever thought about adding a little bit more than just your thoughts? I mean, what you say is important and everything. But its got no punch, no pop! Maybe if you added a pic or two, a video? You could have such a more powerful blog if you let people SEE what youre talking about instead of just reading it.
2011-01-12 @ 05:23
Comment feed for this post
Leave a comment