Finally, time for 'Phil Guys' to gloat over 'Tiger Guys' after Masters breakthrough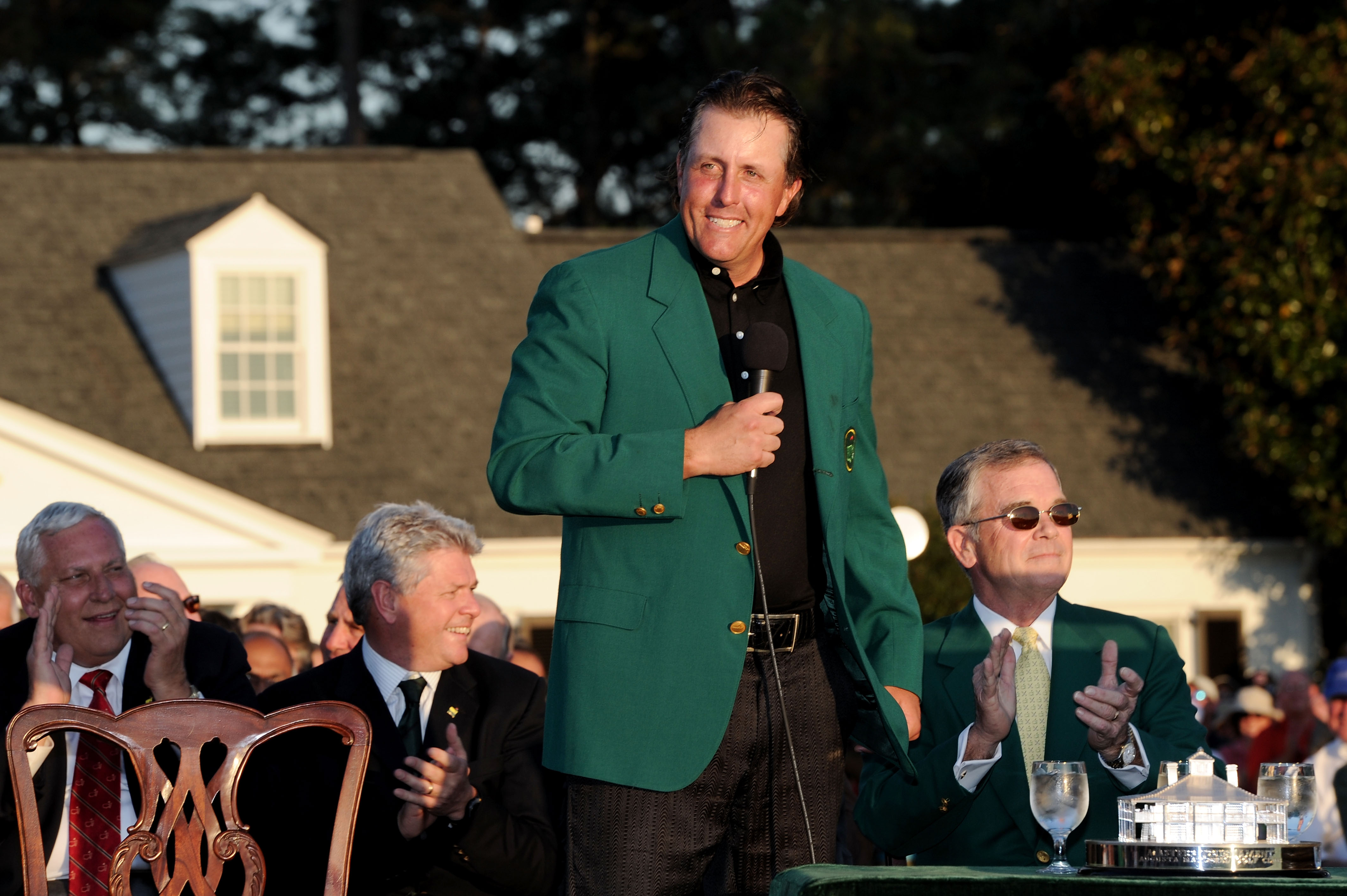 Chances are you're either a "Tiger Guy" or a "Phil Guy" (or gal). Phil Guys love Lefty's bashful smile, his openness with fans and his go-for-broke playing style.
Tiger Guys love Woods for making golf look like a contact sport, for the intensity and the sheer domination, from winning the "Tiger Slam" to having us seriously consider Byron Nelson's streak of eleven consecutive tournaments beatable.
Phil Guys don't often like Tiger Woods very much. They don't like Woods' unrelenting stare and the distance he keeps from us all. They think he's a robot. Most Tiger Guys hate Lefty's smirk, his constant tinkering with equipment and coaches - and that he talks too dang much. They think he's a phony.
Phil Guys unconditionally defend Mickelson when writers blast him for blowing leads, while Tiger Guys unconditionally defend Woods when we blast him for on-course temper tantrums or not playing in enough tournaments.
Phil Guys have been waiting for a long time to finally bask in the sun over the Tiger Guys. Phil has gotten the best of Tiger head-to-head a lot lately, but he has no majors since the 2006 Winged Foot gaffe ("Tiger would never double bogey the 72nd hole of a major he leads," says Tiger Guy).
Now, Phil has finally broken through after some close calls and blunders, while Woods remains major-less since the epic 2008 U.S. Open - which was one of Mickelson's most embarrassing major showings between the bewildering decision to leave driver out of the bag and his wedge follies from below the 13th green at Torrey Pines.
Mickelson is dealing with family adversity by continuing to play regularly - even in tournaments that aren't majors. Woods returned to the Masters after taking all winter off for personal issues, and from the sound of it, he's going to go back into a hole for awhile.
"We'll see when Woods actually has the guts to show his face at a tournament not under the control of Augusta," says Phil Guy.
Phil Guys have a lot to celebrate right now after the Masters and that Mickelson's family appears to be doing better. Tiger Guys are going to have a lot of "wait-and-see" in 2010. It's finally a good year to be a Phil Guy.
Photo credit: Harry How/Getty Images
1 comment
Great read on Tiger and Phil fans. I personally love to watch great golf, so am a fan of both, but I guess I was more of a "Tiger guy". As disappointed as I am in Tiger, I still found myself hoping that this week he would come back a humble man with a great golf game. Although maybe not his "A game", he's proven that he still has a great golf game.... humble, on the other hand, was completely absent. I wanted to be renewed as a Tiger fan, but it just didn't happen for me this week. Maybe I'm becoming a "Phil guy" - he was everything I would want to cheer for and hilarious in the press room after the round.

I do hope Tiger will someday emerge as a better man. His golf talent and skills are undeniable. I want him to earn our respect again.
2010-04-11 @ 20:20
Comment feed for this post
Leave a comment