Golf at Puakea in Kauai comes up aces!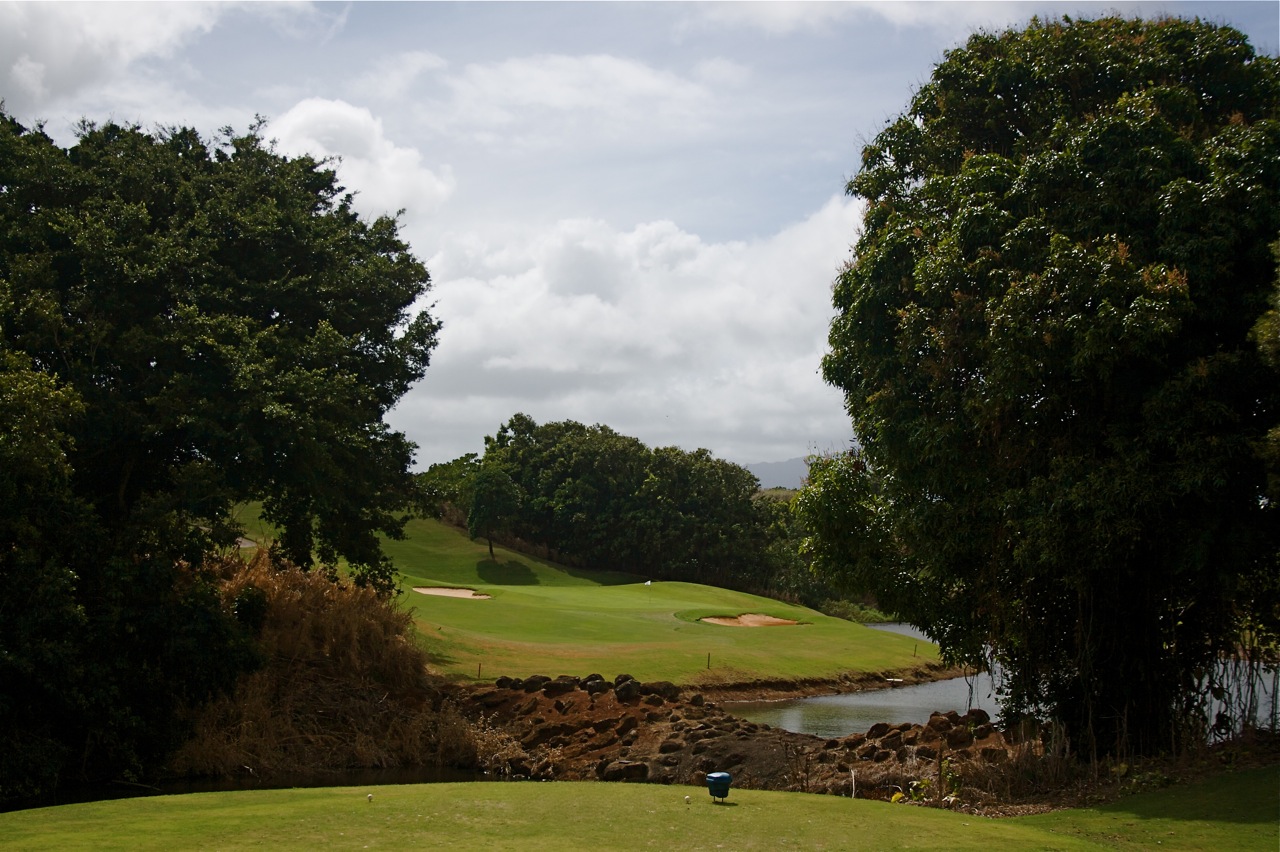 Twice I've played Puakea Golf Club in Kauai and twice someone in our group has scored a hole-in-one that day.
Next time I'm headed back to Kauai and have Puakea on the schedule, you might want to join up.
The first ace at Puakea came two years ago from a playing partner on the fourth hole. This time around, it came on the 13th, probably the toughest of the four par 3s on the course. It happened in the foursome behind us from writer/editor Tom Chiarella of Esquire Magazine. To make things peachier, he was my partner in our best ball event and he stroked on the hole, making it a cool net score of "0."
It was Tom's first ace, and I've got to hand it to him for doing his duty and dishing out the drinks on his dime in the clubhouse after the round and back at the Kauai Marriott Resort later in the night. He even picked up the tab for the other golfers in the grill we didn't even know. That's just Golf Etiquette 101.
The last time at Puakea, a golfer who-will-not-be-outed-in-this-blog scored an ace in my foursome and didn't offer anyone drinks afterwards - the equivalent of telling the Golf Gods their mother is funny lookin'. I don't care if you're dead broke or a teetotaler: you spread the wealth around the night you score an ace.
I'm sure going to live it up Big Willy Style next time I'm able to knock one in. My only ace came five days after my 16th birthday in a junior tournament at Country Club of Jackson in Michigan. While I did break out in a spontaneous riding of the bull thanks to the recent release of Happy Gilmore, I didn't buy anyone squat afterwards, frankly because I didn't know any better - not to mention the fact I was 16 going on 12 at the time and could still get into movies for the children's price, so I wouldn't think any bartender would let me dish out the booze.
But I probably should have tried, right?
I'm convinced I'm still feeling the wrath from my post-ace gaffe because it's been eleven years and I've not even had a close call since, and in case you haven't noticed from this blog, I get my fair share of chances.
Next time I'm playing golf in Hawaii, I'm swinging by Puakea. Maybe it's the welcoming pin positions or something in the trade winds around these parts but the odds for an ace seem as good as anywhere.
1 comment
Comment
from: janet [Visitor]
The golf club has received the Golf Digest Four Star Award for nine consecutive years and has also been voted as one of the top 450 courses in the country by the same publication. Lookout Mountain has received recognition as one of Americas Top Courses from 2005, visit us at: http://www.linksworldgolf.com/
2010-04-05 @ 04:07
Comment feed for this post
Leave a comment