Weekend Warriors gut it out at windy Golf Channel World Am Tour at Barton Creek in Austin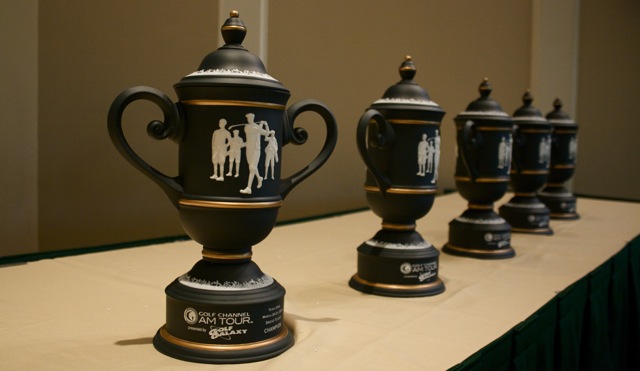 AUSTIN, Texas - You'd have to really, really like competitive golf to have been out on the course Saturday in Austin, site of the Golf Channel Am Tour two-day major event at the Barton Creek Resort's Crenshaw Cliffside course.
I've gutted it out rounds of golf in tough weather all over the world, but Saturday was the worst I'd played in since a few years ago at the French Lick Donald Ross course the same day of a horrible storm that caused wide spread power outages and massive destruction to the grounds of the West Baden Hotel. I didn't keep a scorecard that round, though in Austin, players were required to hole out every single putt amidst 40 mph wind gusts and temps in the high 40s.
Nonetheless, I counted just ten WDs in a field of about 170 competitors Monday morning. The Championship Flight's lowest score was a 78 over both days (Sunday was sunny but still windy), and this coming on a course that tops out under 6,700 yards and is under a 71.0 rating (and pin positions were left in the same spot both days).
Suffice to say, players who compete in these Am Tour events are hooked on competitive golf, many of whom play in many of their local tournaments plus a few majors nationally. Billy, my playing partner yesterday admitted he thought about walking off several times during the Saturday round (as did I, as did most, Billy) but pride got in the way and he finished out the event, even though it'll probably be the most uncomfortable of over a dozen events he's planning on playing in this year.
The next Am Tour Major coming to Texas will be at San Antonio's new TPC San Antonio AT&T Oaks and AT&T Canyons courses. It's being staged July 17-18, so it's safe to say you won't need the hand warmers.
As for me, my game was not exactly in mid-season form, especially considering the conditions, but it's got me ready to go for the 2010 season. On the bright side, I had plenty of practice in the wind leading up to my Kauai golf trip next week, where the Pacific trade winds seldom take a day off. But at least I'll be leaving the Under Armour and wool hat at home.
If you're a golfer with an itch for some competitive golf on your trip and you have a valid handicap, you should center your trip around one of the major events throughout the year and across the country, many of which are in great golf destinations. Spaces fill up (This weekend's Austin event had a wait list over 20 deep) so book early. Click here for the Golf Channel World Am tour major events schedule.
No feedback yet
Comment feed for this post
Comments are closed for this post.