Pinehurst Academy study reveals the right and wrong way to practice at the driving range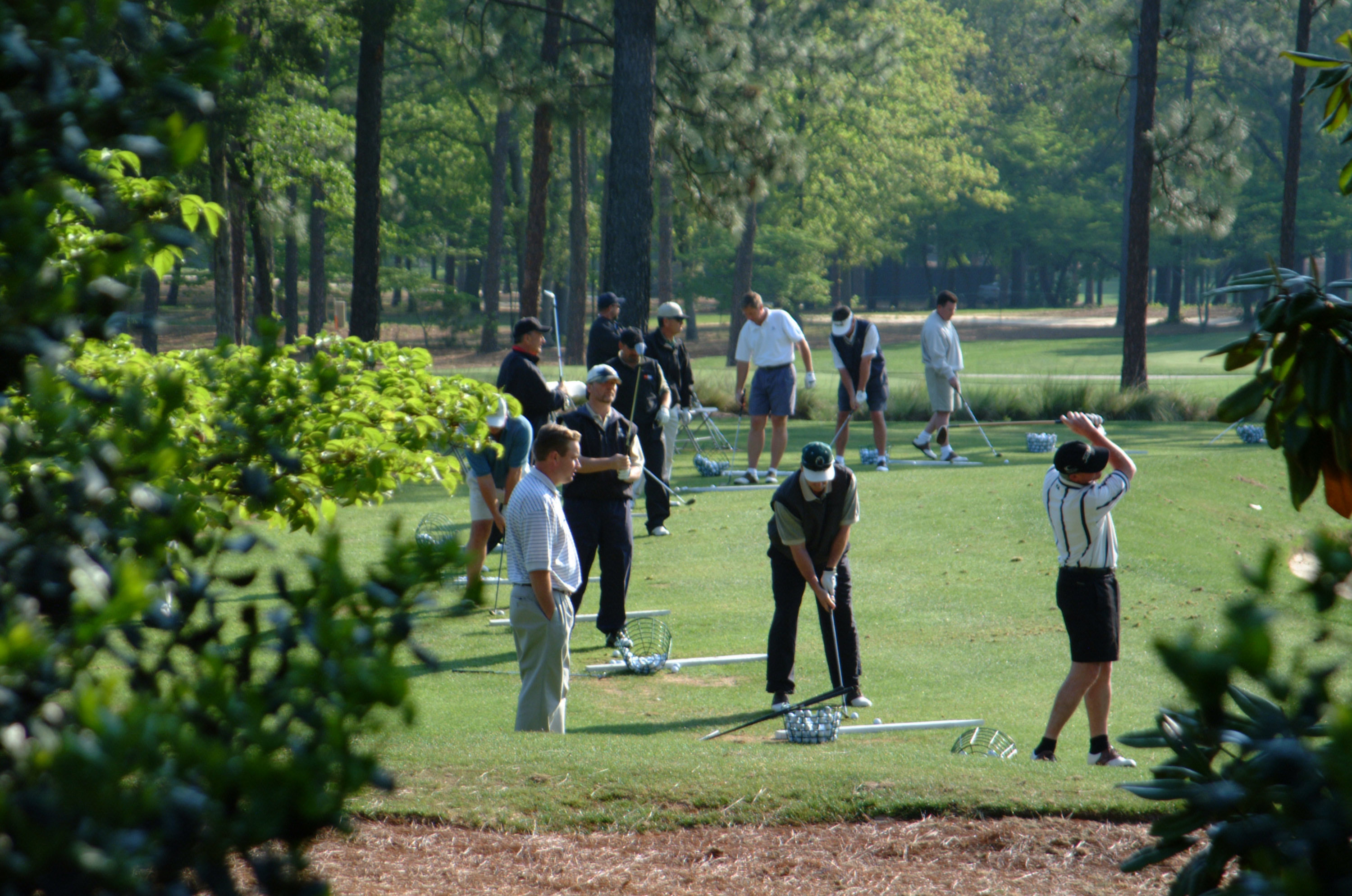 The Golf Channel Am Tour comes to my town this week, a two-day tournament at Barton Creek's Crenshaw Cliffside Course in Austin, and I've been furiously trying to get my game out of off-season mode so I can have a shot at shooting my handicap.
I spent a brisk morning at Pinehurst a couple weeks back with Eric Apenfels, Director of Instruction at the Pinehurst Academy. He and his staff have been studying golfers and how people can practice most efficiently.
"It's amazing how fast golfers become fatigued, we've realized," said Apenfels.
One of their recent studies proved how you can make your practice time more efficiently.
Using two focus groups, students went through three days of driving range training and instruction. One group banged balls into the center of a driving range, while the other had three fairways carved out of the range to aim at (and students could never aim at the same fairway twice), and had a point system: 1 point for a fairway hit, 2 for rough, 3 for outside the rough. The goal was to score low points.
Both groups improved during the three days at the range, but then they brought their new swings to the course.
The group that had the three fairways to aim at did superior to the group that was just hitting balls on the range. In fact, that group had digressed all the way back to where they began on Day 1.
The three days of practice had proved virtually meaningless for the golfers who weren't aiming at specific targets on the range and scoring each shot.
This is a drill you can do even if you're not spending the week at a golf academy like Pinehurst. Not every range has three fairways to aim at, but there are different aiming points, whether it's a flag, tree (or the ball picker).
Never aim at the same place twice, and even consider changing clubs after each shot once you're warmed up, because you almost never hit the same club twice on the golf course.
Even though I've been trying to mix it up on the range for a few years now, I still catch myself hitting ten shots in a row with the same club to the exact same target. It's a bad habit, especially with drivers, because they fatigue you most, which is another way to defeat the progress of your practice session.
Apenfels and the instructors at Pinehurst admit you should seldom be aiming at the same place twice with the same club unless you're working on a major swing or grip change, and rather than spending an hour on the range, just hit a small bucket and head to the short game area for the rest of the hour.
Now, what I find ironic is that the Pinehurst driving range is free to use at the main clubhouse with an unlimited supply of balls at each station, which the locals are allowed to use. So I'm assuming you get a fair share of people banging drivers for two hours straight after dinner. I'm not convinced "unlimited balls" is ever a good thing to have on the driving range…
3 comments
What a great study. I used to caddy for a player whose pre-tournament warm-up routine on the range included pretending to play several holes on the course. Obviously not the putting, but hitting specific shots and clubs as if she were playing the hole. Now, I know why she was competing and I was caddying!

The rest of your advice makes sense too. Aim at different targets during your practice session. I hope there will be more studies that can help us practice even better. I've always been one to play games with myself to make practice more like competition, but I don't really know if that's better than some other method and would love to see more studies in this area.
03/16/10 @ 05:53
Comment
from: Helen Eschenbacher [Visitor]
I've been playing golf since 1958 (Okay I'm 61!) when my cousin Dow Finsterwald taught me how to practice. I'm a three time state champion (remember persimmon clubs? I didn't think so...) and Dow taught me to ALWAYS aim when I practice. and I picked up myn own balls...no money for driving ranges...so you learn NOT to spray them and keep them in a tight circle...easier to pick up. Dow was cheap. Then I watched Jack N. as he hit his 1000 practice balls a day. Same thing.
It has always surprised me that people spend more time on the course shooting 80 over par and never practicing at all. Even when I am playing a practice round we play bump-and-run behind the tee box while waiting for the foursome ahead. We played a lot of bump and run when it takes 80 plus par golfers 6-7 hours to play a round.
I know that golf courses have always taken anyone if they could afford green fees (well most courses) but I always wanted to see golf require a card to even play that showed you understood AND practiced etiquette, understood the rules (basic) and hit a ball at least 50 yds. Too much to dream. Hey Tiger couldn't even get that card!
Speaking of Tigger....one thing that never gets mentioned much is his spitting. I don't mean spitting, I mean "hawking up a loogie" with great verve and sound and landing it anywhere. I was volunteering at the Mercedes championship (when Tiger used to play without getting a $3 million apparance fee), and I was holding up a "Quiet" sign on the first hole at the Plantation on Maui and he spit this huge glob on my leg three feet away. He and Steve Williams snickered like a couple of six year olds. I was furious. I was 100% disabled yet I was giving up my time as all volunters do for the good of the game, I leaned over and told "Tigger" quietly for him and Steve to go f...themselves.
Maybe it's true. Maybe that's why Steve avows no knowledge of Tigger's sexcapades. It doesn't take my MD to understand that Tigger must hate women and especially despise his wife and children to treat them the way he does.
And Mr. Tucker why do people (men) treat Tiger like a king in their comments when you make a negative criticism of him. Envy I guess.

One more thing about being a state women's champ in the mid-west, even AFTER I won I still couldn't make a tee time or play on most male-dominated (all) golf courses. And when I did get on usually with my cuz, Dow, the other two guys would walk off after my 250 yd drive or the first time I hit a wedge and backed it up. walked off!! and they would be cursing "shouldn't let these broads (?) play the game." A 6 foot tall skinny nineteen year old is a "broad?"
I would have liked to have turned pro but I didn't come from a rich family and I had to go to work. But I always was able to play with a group of guys who admired my game and I had one helckuva good time...which also improved my game because they always made me hit from the blue tees. always. So by the time I went to a tournament I would say, "You're going to let me hit from up here???" So that's what the red tees are for! (Besides the "Wichita Penalty.)
I do enjoy your columns. You are one of the few "good guys."

Hey I did beat Michelle Wie in her "salad days" of 13 years old before I was hit by a car and became disabled. (She didn't know any rules then either and BJ kept walking over my path and talking when I was hitting. It didn't matter, I still beat her soundly...because I had great course management which to her meant lawn-mowing skills.)
I cried when I gave my Taylor-Mades away. Men's length stiff shaft and 100 compression balls my whole life!

Thanks for all you write. I enjoy great writing!
04/11/10 @ 20:50
Love the blog here. Nice colors. I am definitely staying tuned to this one. Hope to see more.
01/06/11 @ 20:49
Comment feed for this post
Leave a comment