Seriously, softy Palm Springs golfers, Classic Club can't possibly be that windy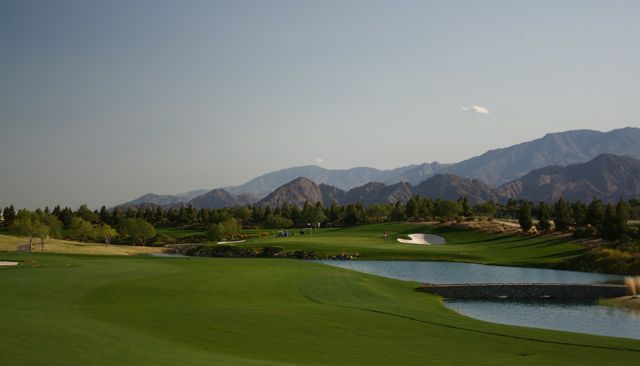 Classic Club's 11th hole in Palm Desert
Talk to people around Palm Springs, and you'd think the Classic Club, located just off I-10, was actually built in a black hole. The receptionist at the Hyatt Grand Champions asked me if my round there windy, a snowbird resident I was paired with the following day asked me if it was windy, bag boys at the Indian Wells Golf Resort did too.
Did my face have windburn? Was my toupee out of place? What gives?
Anyone who has played a shred of golf on the Pacific coast, Hawaii, or even Las Vegas or Texas for that matter, wouldn't wink two lashes at the wind here. I played the course on what many agreed was an above-average windy day in the Coachella Valley, and never clubbed up more than one, maybe two clubs. Conditions were pretty similar the following day at Indian Wells Resort's two courses, the Players and Celebrity.
Turns out that PGA pros complained about the Classic Club when it was in the Bob Hope rotation. Phil Mickelson reportedly told Hope officials he wouldn't come back if the Classic was in the rotation the next year and they caved.
The event has been out of the rotation for two years and Mickelson hasn't been back anyways. Just saying…
I think we're dealing with a situation where Palm Springs-area golf is expected to be so perfect (and the three courses I visited, all Troon Golf managed, were all in Perfect 10 condition the last two days with hardly a cloud in the sky: idyllic resort golf, really), that when there's more than a club of wind strength, some of the spoiled players get soured.
Here's what Palm Springs golfers should know about the Classic Club more than this whole "wind" thing: Peak season green fees are down to $125 from once being as high as $189, but it's in as good of shape as you'll find in the valley, has five tee sets, a fantastic practice facility and a free lunch with your green fee. It's one of the most popular public plays in the area, so be sure to book it before the locals swoop in a week before and get their $45 rate.
Personally, I'd trade a few miles per hour of stronger winds (if that can even be proven) for a rare Coachella Valley-area public golf course with zero residential developments in play (or even in sight really) any day of the week.
Full review coming of the Classic Club as well as Indian Wells' Players and Celebrity Course…
1 comment
Comment
from:
Phoebe Boots
[Visitor]
Very informational post! I am looking forward to visiting Palm Springs again next year. The last time we went there, the entire place just took our breath away. Also, might I recommend an online directory for golfers to use when in Palm Springs: http://www.palmspringsresortcommunities.com . They provide a list of key locations in Palm Springs, from lodging down to restaurants. We used the same directory for our trip, basically, that's how we got around.
03/19/10 @ 05:57
Comment feed for this post
Leave a comment