Traverse City's King's Challenge has a new name, design: Manitou Passage Golf Club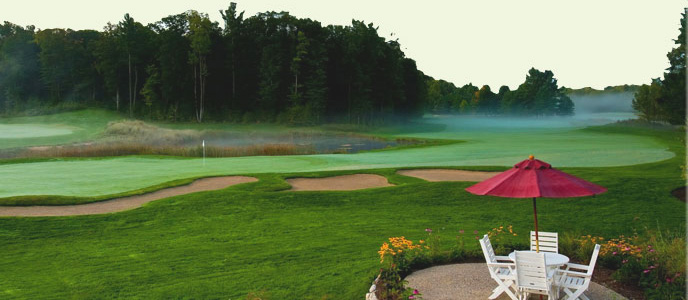 It's never too early in the season to start talking about golf in Michigan. And I received a pleasant release this morning about a course reopening once the snow melts for the 2010 golf season.
King's Challenge, an Arnold Palmer design that has seen financial hardships and was closed throughout 2009, has new ownership and will reopen this year as Manitou Passage Golf Club. From the release:
Christened the Manitou Passage Golf Club (after the nearby Lake Michigan waterway that runs between the Manitou Islands and the Sleeping Bear Dunes) the "new" course actually represents the long-delayed completion of Palmer's original design, which wasn't entirely in place when the course opened in 1998. To ensure that continuity, the reworking was carried out with help from Palmer's own design firm and two other giants of golf course construction: Peridian International and Wadsworth Golf Construction.
King's Challenge sticks out in my mind because I played it during one of the first golf trips I ever took for this job back in 2006, teeing it up around the Traverse City area. Afterwards, I was driving to Leelanau Country Club on backwoods county roads (there's a lot of them in nothern Michigan) and the brakes of my Geo Prism went out.
To this day, I've wondered if someone sabotaged my brakes via a little golf writer rookie hazing…
Before that incident though, what I remember about that brisk May morning at King's Challenge was a handful of low-lying holes through thick woods and ponds, as well as some rolling holes and elevated tee shot. The par-5 8th hole had as mighty of an elevated/blind tee shot as there is in the area, and it's since been enhanced during the redesign to offer better views of the passage itself and should turn into the signature hole.
Other holes played a little more along a private runway and around abandoned ski lifts from the old Sugarloaf Resort. It wasn't exactly the most player-friendly of resort goers with a lot of holes that were more strategic than brawny. I'll be curious to see how different the Palmer design is now.
Click here for my MichiganGolf.com course review of King's Challenge and click here for King's Challenge photos.
A couple of other good plays in the area are the two courses at A-Ga-Ming. For golf resorts, Shanty Creek Resorts boasts newly refurbished lodging and one of my favorite golf courses in the north: Cedar River, a Tom Weiskopf design. Or, stay at the sleek Grand Traverse Resort and if your game is in tip-top shape, take on the Bear, built during Jack Nicklaus' most sinister design phase.
2 comments
Comment
from:
J. Michael DeAgostino
[Visitor]
Opened in 1985, The Bear turns 25 this year. Big celebration planned plus 25th Anniversary specials.
03/03/10 @ 06:15
Comment
from:
Padraig Roche
[Visitor]
As big fans of great courses, the Irish would love to play this course.
03/03/10 @ 09:04
This post has 1 feedback awaiting moderation...
Comment feed for this post
Leave a comment