Teeing it up in golf country: Pinehurst Resort and the Carolina Sandhills
PINEHURST, North Carolina – There's a lot of golf-rich regions in the world, from Scottsdale to the Grand Strand, Monterey Peninsula, Palm Springs, St. Andrews and plenty more.
But I'd have a hard time finding a more golf-rich region in terms of holes per acre than the the one I'm in now: the Carolina Sandhills, from Pinehurst out towards Southern Pines and Aberdeen. Consider this satellite image of Pinehurst: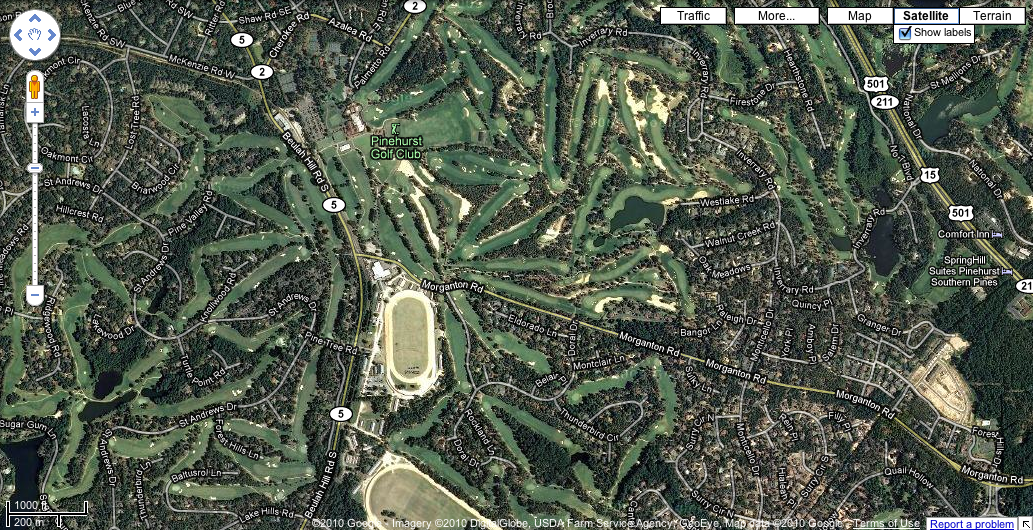 Tonight I Google mapped a few other golf spots from around the world, including other 5-course resorts like Doral Resort in Miami, and no aerial comes close to Pinehurst's golf-loaded image with the original Pinehurst clubhouse as the epicenter and what appears to be National Golf Club across the 211.
So as you can imagine, the area oozes golf especially around the old Pinehurst Village. Click here for ten reasons why over 100 years later, Pinehurst holds its own among America's finest golf resorts.
What's most remarkable about the area's rich golf history is that Pinehurst was never meant to be a golf destination in the first place, rather a retreat for health patients. But what has ensued is eight courses at Pinehurst Resort, plus Pine Needles and Mid Pines just around the corner and countless others like Tobacco Road, The Pit, Carolina Club among 43 area courses.
I'm here all week, spending the majority of my time at the resort and village, and will be teeing it up on No. 2 Saturday. I'm scheduled for the shorter Pinehurst No. 3 tomorrow, but based on the pitter-patter outside my Carolina Hotel room tonight, I've got a feeling tomorrow I'll be off-course and in the Tufts Archives, Spa and pubs tomorrow. Or maybe I'll do a little croquet.
2 comments
some genuinely rattling work on behalf of the owner of this web site , utterly great subject matter.
11/26/10 @ 06:17
Tobacco marketing is us smokeless turning into more and more restricted all over the world. Tobacco marketing is lorillard Tobbacco turning into more and more restricted all over the world. Tobacco industries say that the critics more than exaggerate the results of their advertising. They also stage out that teenage smoking can also be growing in nations exactly where most types of marketing have already been banned. Tobacco goods are dangerous. Don't be concerned smokers, no one desires to lock you up.
01/07/11 @ 14:41
Comment feed for this post
Leave a comment