Best fall season specials and golf courses in Gaylord, Traverse City and rest of northern Michigan
Fall golf is here in Michigan, a lovely time to take in the autumn colors and course discounts. The weather starts getting a little spotty, yes, but most courses are offering discounts of 25-45% starting mid-to-late September. Here's some of the season's best picks:
Forest Dunes: Greens fees are slashed $50 down to $75 after October 1st.
Black Forest: Play Tom Doak's challenging stand-out course at Wilderness Valley for $50 in Gaylord (down from $75).
King's Challenge is a beautiful course in a rustic setting a half hour west of Traverse City, sure to look stunning with an autumn backdrop. Rates as of September 25th are $52 weekend (down from $80). And don't forget their popular "Steak & Play" package.
The Garland Resort is the kind of backwoods retreat where you can forget an outside world exists after a day or two. Rates are cut about 1/3 at each of their four courses.
The UAW's Black Lake in Onaway is one of the state's best, but with so many auto workers getting laid off these days, could be packed to the gills…Rates after October 1st are $45-55.
If you're willing to hold out until late October, Gaylord is offering a "Free Golf" weekend October 20-22. Simply book a night at a participating hotel and you can play a free round at a handful of courses including Black Forest and the Otsego Tribute.
Going to Grand Rapids? I'm a big fan of muni L.E. Kaufman and Pilgrim's Run. The Mines course is good bargain, too.
Plan on catching college football at the Big House in Ann Arbor? Try nearby Stonebridge, Pierce Lake west of town or Eagle Crest in Ypsilanti.
In Lansing, Forest Akers West and Eagle Eye are my favorites.
Fall is a popular time for courses to aerate their greens. If you don't like putting over pot holes, be sure to call courses in advance for maintenance schedules. If you don't like driving over pot holes, consider another state entirely.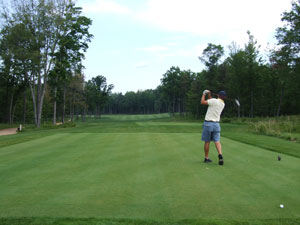 Forest Dunes up north is one of Michigan's top public courses and you can play it for $75 starting October 1st.
1 comment
Comment
from: Matt Nelson [Visitor]
Good article man. Just thought I would point out that textbook finish in the picture!
09/17/06 @ 20:10
Comment feed for this post
Leave a comment