TravelGolf.com's lame-O geezers give fashion advice and 9/11 conspirators tee off. Now I've read everything.
Recent outrageous opinions by writers and readers on TravelGolf.com have been a very amusing read.
First, the 9/11 conspirators have come out in droves on Chris Baldwin's recent blog, citing "proof" the Bush Administration not only knew the attacks on the World Trade Center and Pentagon were imminent, but orchestrated by the U.S. government.
Please. Like we're supposed to believe one of the free world's most incompetent administrations can not only orchestrate, but execute AND keep secret one of history's gravest attacks.
Don't give them so much credit.
Then, two of TravelGolf's resident dinosaurs, Kiel Christianson - who was writing for MichiganGolf.com even before Al Gore invented the internet, and Tim McDonald - who's become so paranoid he's recently said the golf course has turned into little more than a well-manicured mine field - are giving FASHION ADVICE. They're even praising the "isn't-anyone-out-there-better-than-this-guy-so-we-don't-have-to-market-him" Jim Furyk as the Versace of golf.
Sure, I'll listen to these guys, right after I get my morning personal finance tip from Michael Jackson and enroll in Mel Gibson's Ethnic Sensitivity Seminar.
God bless the internet, you truly can publish anything.
You want fashion advice? Get it from the golf world's Kid Cool. Sure, I never double-check my facts and "deadline" ain't in my vocab, but no one keeps it more real around these parts. Somewhere 2Pac is givin' me props.
Maybe it's my fault for not chiming in sooner. For that, I've let you all down. I'm sorry. But here's all you need to know about fashionable golf attire:
First of all, dress to your handicap. If you're a duffer, arrive to the course in jean shorts and a Motley Crue tank top. That way, when you shank one off the ball washer on the first tee, your foursome's already found cover.
Second: Don't wear some name-brand golf manufacturer's hat. The only reason pros wear these obsurd things is because they're being paid bushels of green to do so. Mets fan? Wear a Mets hat. Ohio State alum? Then give my irons a nice shine, there's a buck in it for ya.
Third: Sergio Garcia can't even pull off dressing like Sergio Garcia, you can't either.
Finally: If your ensemble costs more than what you shot for 18, you're nothin' but show, bro.
Any questions?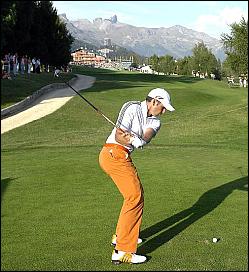 He may wear it, but it doesn't make it right.
2 comments
Comment
from: Lester Hinson [Visitor]
2Pac giving you props!? Pushing up daisies from a pine box is more likely! The world really weeped when that thug loser went down ..... for about, oh, 2.4 seconds that is.

09/14/06 @ 04:30
Comment
from:
Tim McDonald
[Member]
Brandon -- RESPECT your elders! You have much to learn from me and Kiel. I hope you don't fall in with that Young Republican, Chris Baldwin.
09/15/06 @ 17:29
Comment feed for this post
Leave a comment