NHL Goalie DiPietro signs 15-year deal, I'm glad golf doesn't have contracts
Rick Dipietro, goaltender of the New York Islanders signed a 15-year deal this week worth nearly $70 million - all guaranteed. Only Magic Johnson's 25-year deal with the Lakers is believed to be longer in all of sports. Ever. It's hard to believe the guy who sat next to me in high school Latin class (and consequently detention) is worth $70 mil (but he doesn't have a kick-ass golf blog. Boo ya!).
DiPietro, who played on the USA Olympic team this winter, is a better-than-average NHL tender and was the first ever goalie taken number one overall in the draft. But that's a risky commitment for a franchise to take on a player who has been streaky since he came to the league - not to mention the NHL's current instability. The new NHL rules that handcuff goaltenders' puck-playing also takes away from one of his strengths.
Long contracts can be a nightmare and often signify everything ugly about pro sports. Just ask the Detroit Lions who signed pothead/WR Charles Rogers to a ridiculous eight-year deal. He was cut last week after three years but will still collect most of it thanks to his $14 million signing bonus. Ben Wallace's $60 million deal with the Bulls is likely to handcuff their salary cap until he retires, and there' no way he'll justify that type of money in the waning years of his career.
When I was kid, I used to think hockey players were paid per goal or win. How Utopian does that sound? I didn't know about guaranteed contracts, player/team options and the surge of productivity players have in a "contract year".
Luckily in golf, you're paid on the course what you do on the course. If only other sports were that simple. We wouldn't have seen A-Rod's incredible $250 million deal with Texas, obnoxious super-agent Drew Rosenhaus wouldn't be one of sports' most powerful figures, and hold-outs and arbitration wouldn't dominate yearly off-season headlines.

It sounds like a noble concept, you're paid what you produce. That's what's great about golf. Sure, sometimes players are given sponsorships that may be a little premature and second-tier tourneys have to bribe big names to show up once in awhile. But in most cases, you are paid for exactly how you performed. Can you imagine if David Duval - once the best in golf - signed a 15-year deal at the height of his career?
It's just another reason why golf remains' one of the purest, most honorable sports. The Islanders are predicting DiPietro will still be a solid goalie when he's 40. That's a big risk, I hope they are right.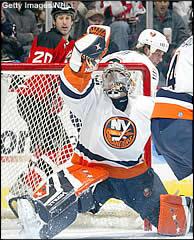 Rick DiPietro, New York Islanders
1 comment
Don't worry about that contract. Ask your friend DiPietro to make you a copy and you probably will find many clauses that can alter the contract. Injuries, no. of games played, office job if your career ends at 33, trades ...
09/13/06 @ 14:24
Comment feed for this post
Leave a comment