Tiger, Federer & Sharapova at U.S. Open, football, baseball and golf weekend in review
Did anyone get anything productive done this weekend? Besides taking down your previous record of buffalo wings and Miller Lite consumed in a 48-hour span?
The NFL season opened, college football had a #1 vs. #2 matchup, Tennis' U.S. Open was filled with storylines and the MLB's pennnant and wild card races continued to heat up (thanks to my Tigers doing what Detroit sports have been doing best lately: choking in crunch time after league-leading regular seasons).
And with Michelle Wie ducking out of the Omega early, we didn't have to waste our time tracking her over the weekend; instead we could follow some more legitimate sporting headlines on this monster weekend.
Sports weekend in review
Wie leaves early, so does media: Did someone end up winning the Omega Masters or did everyone just go home once Wie left? As much as she's become a mere publicity stunt entering men's events, the coverage certainly lays up the moment she exits.
Teen makes Nationwide cut: After dropping out of school for incessant name-calling, Gipper Finau became the youngest to ever make a Nationwide Tour cut. This occured on the same weekend fellow teenager Michelle Wie missed the cut in Switzerland, which means a serious question must be raised: Do any high school teachers take attendance anymore???
Bush in 06: If Reggie Bush's first game is any indication, he's headed to a Rookie of the Year season (and Pro Bowl) and Mario Williams (taken in the draft before Bush) is headed toward "Sam Bowie" status (three tackles in his team's loss, Bush's Saints won). Bush is the next Marshall Faulk, he can do it all, and is going to ressurect the New Orleans franchise, and possibly end the poverty and dissention in the Big Easy (with help…).
Sharapova is pretty: I love hating on Nike, those conglomerate, sweatshop-loving fatcats, turning teenagers into $$-signs and breeding diva-like athletes who feel they must market themselves beyond simply playing their guts out on the field.
I'd hate on 'em more if their ads weren't so damn awesome. Nice timing on this Maria Sharapova commercial that debuted at the U.S. Open, which she won – her second major since winning Wimbledon two years ago and silencing all Anna Kournikova comparisons.
We all have dream jobs (Chris Baldwin is hoping to work on E! some day so he can chase celebs full-time and discuss Paris Hilton's DUI with the kind of scrutiny that should be reserved for Halliburton or the defecit). For me, seeing how these Nike creatives score hit-after-hit would be fascinating.
Tiger sides with Federer, not fellow countryman: It's the U.S. Open, two weeks before the Ryder Cup, and Tiger Woods is getting chummy with the Swiss champ Roger Federer in New York before the U.S. Open final featuring American Andy Roddick.
Woods has a history of being tight with the great - not good - ones. But maybe he could have chosen a little better timing than Sunday afternoon to root against a fellow American. If that's not foreshadowing to an ugly U.S.A. K Club beatdown I don't know what is.
College football rankings: Ohio State is #1 and Notre Dame is #2. If Michigan State was #3, my hometown of Ann Arbor would likely combust. Michigan plays at Notre Dame and Ohio State this season. If they lose to both teams again, heads are likely to roll, starting with coach Lloyd Carr's. Letting these hated rivals bask in the glory while Michigan tries to regain powerhouse status is unacceptable in Maize 'n Blue country.
Also, after beating Miami last week, did anyone notice Florida State's come-from-behind W at home vs. Troy? Not the empire backed by half of mythology, the tiny school in Alabama.
(Lack of) Rooting for the underdog: There's no better story in baseball right now than the success of the Florida Marlins, a bunch of rookies making dirt who continue to climb the National League and are just outside the playoffs looking in. The Marlins are last in the majors with a salary of $14 million (Tampa Bay is 2nd to last with $35 million). It's too bad the people of Miami could seemingly care less. The Marlins struggle to fill their stadium half way. You wouldn't think that'd be the case with a large Cuban population who not only adore baseball but you think would relate to the underdog status. But apparently you can't talk anyone off South Beach unless you've got big stars like Shaq and Wade. What a crummy sports town.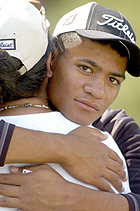 Gipper Finau: Ms. Grady didn't give a pop quiz Friday, did she?
13 comments
Unfortunately, the only way I could witness the FSU comeback over Troy was via ESPN's "Gamecast" Flash window.
I don't know what is more frusterating, waiting for my screen to refresh for what seems like an eternity to finally see that Booker has again rushed for zero yards, or just waiting to see the 30 clip later that night on SportsCenter. I think the internet has become the perfect "GOTCHA" for an addict, no matter what the vice.
If you find yourself watching sports on Gamecast, playing Texas Hold 'Em on PokerStars, or spitting game on Adult Friend Finder, you are in the advanced stages of an addiction.
Kicking an online paper football thru the uprights to get $50 off your next Orbits flight is still cool though.
09/11/06 @ 04:48
So, let me get this straight. Regardless that tiger is good friends with Federer, if you are from the USA, you MUST root for an American in every sporting event. Damn. Guess I can't root for Ernie Els to win the Masters anymore.
09/11/06 @ 08:16
can anyone tell me how did michelle wie played this weekend? i can't seem to find her scores in the paper today.
09/11/06 @ 11:11
Comment
from: Vena Mapu Finau [Visitor]
I don't know where you get your info from but Gipper Finau never dropped out of school. He and his brother, Tony were home schooled by me last year (only the 2nd semester). They are full-time students this year. Thanks for your interest in my sons.
09/11/06 @ 12:15
Shanks, you've got it all wrong. Nobody is saying that Tiger "can't" root for a foreigner, Brandon is just saying that supporting a European to beat Roddick in the U.S. Open (I repeat, U.S. Open) probably isn't a great P.R. move.
P.S. Tiger and Roger met for the first time that day, I wouldn't exactly call them good friends
09/11/06 @ 15:20
What does it say about Roger's social skills that he's giving his box seat to a guy and his wife he just met? Doesn't he have any good buddies he wants to hook up with primo seats from back home?

I guess that's what it takes to be dominant, but hitting up a meet 'n greet or wine and cheese function once in awhile wouldn't hurt Roger.


09/11/06 @ 15:25
Right after I wrote that I read elsewhere that Tiger just met Federer and all they share to date is the same business agent. Man, do I feel dumb.

Maybe Elin just wanted to root for her Swedish countryman. Gotta keep her happy. Anyway, I'm sure that more than one Scot rooted for Tiger to whip Monty's backside in the Open Championship at St. Andrews in 2005.
09/11/06 @ 16:05
'The Marlins are last in the majors with a salary of $14 million (Tampa Bay is 2nd to last with $35 million). It's too bad the people of Miami could seemingly care less. The Marlins struggle to fill their stadium half way'

Maybe the fact that the owner operates the team on a shoestring budget, blows up the team after they win a championship like a reflex, and basically plays for fielding winning teams once every 5 years, when the rooks matures, has a reason to do with why the fanbase cant seem get ATTACHED to the new Marlins. I mean, there's a fire sale as soon as the players get good. why would u support an owner that isnt supporting you? Im sure he gets revenue sharing, put the mone BACK into the team.
09/11/06 @ 17:45
Merrin,

Tough to establish fan loyalty, I agree. I'm also glad the Tigers got 'Pudge' from Florida. He's awesome.

However...there's a lot of franchises doing things the "right" way and haven't won anything in 40 years.

Florida's won it all twice in six years. Ask Philly if they'd trade any of their sports teams for the shot at winning a championship within that time. They're a rabid sports town that have won jack recently. Sports in Miami, like L.A. seems to be more of a fashion statement than passion for the game.




09/11/06 @ 21:52
Shanks --

Federer is Swiss, not Swedish. I suppose they all look the same to you...

09/11/06 @ 22:09
Brandon

Does it come as news to you that hundreds of elite young athletes are occasionally home-schooled or tutored? Are you really that out of touch with elite junior athletics?
09/11/06 @ 23:19
Thats f***** up!!!!What yaw wrote about
Tony and Gipper why dont yo a$$ go to skoo and check that sh*** out yah low life b****!!
F%^& what it cost ni**** I'm a poly!!!hahahah
and Yeah I aint dropped out yet because we aint all dah same!!F*** yah b****!!GHOST
09/25/06 @ 16:07
Comment feed for this post
Leave a comment