The truth about Polish women -- classy, Baldwin
I'm confused.
First I get reemed by our conservative readers (calling me a Democrat was below the belt, by the way. Anyone who reads me regularly knows I'm Socialist) for trying to spice up the mundane Tiger Woods conversation by questioning the legitimacy of his Sunday dominance, suggesting maybe he's "distracting" his opponents the night before like another Hall of Fame athlete did in the 80s.
(Is that more sensitive everyone? Hate to ruin any 9-year old's future with a golf column…)
Then, in an attempt to write credible journalism about a recent trip to Poland, someone in my own camp says I'm not telling the whole story because I'm not posting all the women I met's pictures and scoring them 1-10, like I'm Turtle on HBO's Entourage.
So I guess it's a fault of my travel writing not to include the "scenery" in Poland. You got me, Baldwin, looks like I'm still a long way away from chasing Charles Barkley around the west coast. You have any hat– I mean fan mail that needs sorting?
Well, Chris, women in eastern Europe are pretty awesome, if you like a good figure and friendly smile. Poland is no exception, and someone there told me a recent survey rated Americans as their favorite foreigners.
Bing!
Some are blonde, some are not, but all the ones I met in my demographic were super friendly. Another few days there…I may have settled for good.
Now the older ones…whether it's their communist upbringing or inability to understand a word of a scurried "How the F*** do I use these pay phones!?!?", they weren't so sweet with me. But I'm sure if I met any of their daughters they would cook me a fine goulash. But resident senior Tim probably made the right decision settling in the swamp.
Now everyone is screaming, "Show, don't tell!" so I do have a few pics, but those are personal and I don't feel like turning my blog into a Facebook or Myspace.com page. But I did take a picture of a TV with some cute Polish girls while I was there.
(What?? Like there's anything weird about that???).
For audio proof I talked to some Polish women, check out my Sweet Spots with a special guest.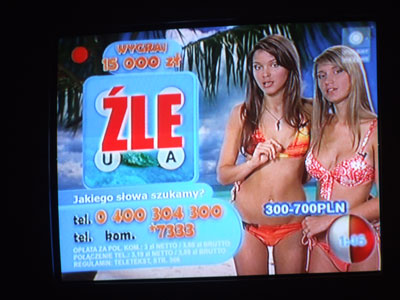 Not entirely sure what they're selling, but I'd buy it…
(Okay Chris, was this your warm-up article before you decide to rile up the Wie Warriors before her big week?)
6 comments
Comment
from:
Chris Baldwin
[Member]
BTuck, BTuck. The difference between you doing it and some guy with a MySpace or Facebook account is that you're a professional writer. You can make it entertaining as I'm sure you would.

Ever hear of Gonzo Journalism? Some of the best reporting out there is first-person experiences. Especially in travel writing.

Ever hear of Hunter S. Thompson?

OK, hopefully not on the later. Point is Gonzo journalism can be great or it can be utterly tepid. I'm betting you'd put out good product.

So put up the damn photos already of the hot Polish blondes and regal us with your stories. You are writing a travel "blog". Not thesis.

Don't make me go to the Castle Baron boss for a ruling.

You won't like it. Washing his limo on the weekends only gets you so far. You really shouldn't have let it that you really do have photos by the way.

Now even Jim Leyland wants to see them.





09/07/06 @ 03:35
Comment
from:
Brandon Tucker
[Member]
Chris,
I know you're dying to jump ship as soon as the Teen People editorial staff responds to your numerous employment inquiries, but you're gonna have to save the gossip and schoolboy banter for your "reports" on all the
reality TV stars
.
I know you're curious, but you'll just have to eventually pencil in an appearance at our next TG eastern Europe summit to see for yourself.
09/07/06 @ 04:29
Comment
from: Hoyt Decker [Visitor]
Mr. Tucker,
The photo you choose to post (indeed the entire tone of your blog) is offensive! Worse even than the
exploitive photographs SUPPOSEDLY of female caddies
that those pigs a WorldGolf.com publish! Take this trash down immediately and write something nice and decent.
09/07/06 @ 05:09
Comment
from:
Brandon Tucker
[Member]
Hoyt,

Take this post down and give Baldwin the "W"? Never. Some things are more important than good taste and journalistic credibility.
09/10/06 @ 03:14
Keep up the interesting posts, Brandon. I think you've hit a goldmine in the blogosphere debate with your Tiger Woods post a week back. It appears from the large number of posts last week that he remains a highly scrutinized public figure, albeit still a fairly non-controversial person who just wins and grins. But what about the situation with his wife?

I think you should come up with a list of some of today's up and coming PGA bachelors, and ask these European woman you've been hanging out with who they think is the hottest, and if any of them would date a PGA golfer. That would give you an opportunity to post pics while keeping Tiger in the spotlight.
09/11/06 @ 05:19
As some people say, Polish women are sexy.) Most of them, actually ;). Some of them can play golf too..
06/24/07 @ 00:38
This post has 1 feedback awaiting moderation...
Comment feed for this post
Leave a comment